You are here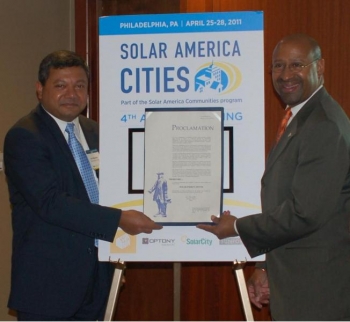 DOE Acting Under Secretary Dr. Arun Majumdar and Philadelphia Mayor Michael Nutter hold a Philadelphia Proclamation naming April Solar Energy Month. | Department of Energy Image | Photo by Susan Carollo, Contractor | Public Domain |
This week, representatives from 25 cities around the nation gathered in Philadelphia for the 4th annual Solar America Cities meeting to share findings on emerging trends in urban energy use and to discuss solutions to local solar barriers, such as zoning, financing and unwieldy permitting processes.
At the conference, Department of Energy Acting Under Secretary of Energy Dr. Arun Majumdar announced a Request for Information (RFI) for a solar challenge specifically designed to address permitting issues in cities. The RFI will foster solutions to help eliminate barriers to solar market development, save customers time and money and accelerate the adoption of solar energy in communities nationwide.

Improving local permitting processes can make it easier for residents and businesses to pursue solar installations, and can significantly drive down the total cost of solar projects. Unfortunately, permitting processes and requirements vary greatly between jurisdictions, and local inexperience with photovoltaics (PV) has led to inconsistent enforcement of requirements. This can add time and costs, not only for the installers, but also for the system owners. According to a January 2011 report by SunRun, local permitting, inspection and utility interconnection processes can add more than $2,500 to the cost of each residential installation.

The RFI focuses on four areas crucial to solar market growth: standardizing permitting processes, improving interconnection and net metering standards, increasing access to financing, and minimizing siting restrictions. The challenge builds on the success of the Solar America Cities program in lowering solar energy costs, and supports the Department of Energy's recently announced SunShot initiative to reduce the cost of solar energy by 75 percent by the end of the decade.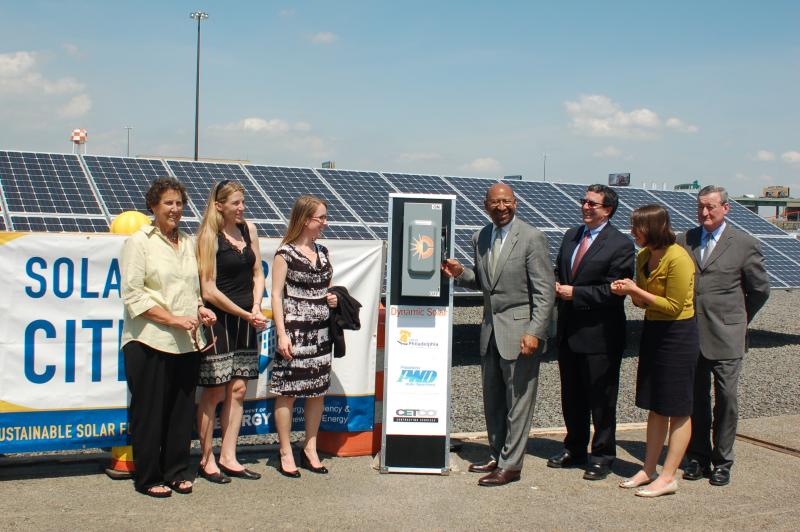 Philadelphia Mayor Michael Nutter flipping the switch on a new 250kW solar installation. | Credit: DOE photo/Susan Carollo
Earlier in the week, Philadelphia Mayor Michael Nutter and the Solar America Cities program celebrated a local partnership success, flipping the switch on a new 250 kilowatt solar PV system. The Philadelphia Water Department's Southeast Water Pollution Control Plant will use all of the solar power generated on-site. The project was made possible by $850,000 from the City's Energy Efficiency and Conservation Block Grant (EECBG) from the Department of Energy, $850,000 from the Philadelphia Water Department and technical assistance from the Department's Solar America Cities program.

"I would like to thank the U.S. Department of Energy for helping Philadelphia to invest in renewable energies and to build upon our momentum to become the greenest city in America," said Mayor Nutter.

You can learn more about Solar America Cites here: http://solaramericacommunities.energy.gov/