You are here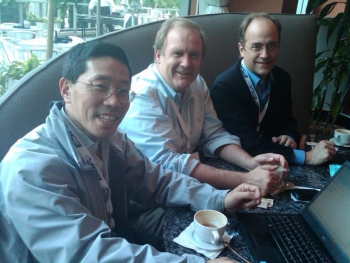 Photo of the 24M Technologies team (from left, Yet-Ming-Chiang, W. Craig Carter, and Throop Wilder.) | Courtesy of 24M.
The folks at 24M Technologies are the kind of new energy innovators President Obama spoke of in the State of the Union address last week. Throop Wilder, president of the emerging technology start-up, and his fellow co-founders Yet-Ming Chiang and W. Craig Carter (both scientists at MIT) are changing the way we approach energy storage by using lithium ion to store renewable energy that will provide multi-hour storage at a much lower cost.
Essentially, 24M is changing the way we think about renewable energy storage by intersecting industry, academics and government to launch new ideas that will offer solutions to the challenges we face. This new technology combines features of rechargeable batteries, fuel cells and flow batteries to create low cost, high-energy storage systems for the transportation and electric grid industries.
Earlier this week, Throop told us that by using a tried-and-true chemistry base like lithium ion in a whole new way, 24M's "disruptive technology thought process" allows them to use ideas from other industries that might not otherwise be explored. It's this type of innovative thinking that will change the way we power our homes, cars and communities.
In addition to the science and business components of 24M's work, Throop shared his ideas for the best "breakthrough thinking" environment: laughter.
"Comedy and laughter has real productive impact," he said. "As Alex Slocum, a top mechanical engineering professor at MIT says, 'Comedians make the best designers.' When you're in an environment where people laugh, I believe your thought patterns are following a different neural pathway, which in turn fosters new ideas."
In order to launch 24M Technologies, the new company received $2.55 million in a grant from the Department of Energy's Advanced Research Projects Agency – Energy (ARPA-E), to develop batteries that can store more energy for a lower price. Without the funding, Throop says, start-up companies like 24M would have a hard time applying the entrepreneurial energy that has driven other high growth markets.
You can hear from the scientist behind the technology at the ARPA-E Energy Innovation Summit in Washington, DC on March 1, where Dr. Yet-Ming Chiang will discuss semi-solid rechargeable power sources as part of an ARPA-E Project Spotlight showcase.
It's not too late to register for the ARPA-E Summit, where you can hear more from clean energy entrepreneurs and industry leaders like Energy Secretary Steven Chu, U.S. Navy Secretary Raymond Mabus, Bank of America Chairman and former DuPont CEO Charles (Chad) O. Holliday, Jr., and many other notable speakers.
If you're up for the challenge, we hope to see you there!