You are here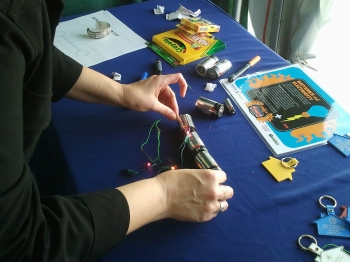 Volunteer Alison Mize demonstrates how to build an electrical circuit using a string of lights and battery at the Vehicle Technologies Program booth at the 2011 Solar Decathlon. | DOE photo, courtesy of April Saylor
The Solar Village has been open to the public on the National Mall's West Potomac Park for seven days now, which means the 2011 Solar Decathlon is fully underway. But the 19 teams of students competing in the competition aren't the only ones busy at work in the Solar Village.  Volunteers, many of whom are employees of the Energy Department offering their time and resources, are also working around the clock to make sure the competition runs smoothly and to educate the public on energy efficiency and renewable energy use.
With 800 volunteers contributing to the Solar Decathlon this year (500 more than the 2002 competition), the educational spirit for green technology is in the air (literally if you happen to visit the Office of Energy Efficiency and Renewable Energy's Wind Power kiosk.)
Bad puns aside, yesterday I had the opportunity to help out at the Vehicle Technologies Program booth, where a team of us spoke with adults and kids alike about alternative fuels, smart engineering and the aerodynamic technology at work in our vehicles.
At the booth, we used various activities to illustrate the impact of breakthroughs in next-generation vehicle technology -- including an aerodynamic toy car/hair dryer test, a battery light activity that shows kids how to build a circuit with a light bulb, and a soybean-crushing activity used to illustrate how scientists are developing biofuels.
For me, the best part of volunteering was seeing how excited and knowledgeable the public is about electric and alternative fuel vehicle technology. Many people also spoke with me about lesser-known technology, such as vehicles that run on compressed air, as well as documentaries like Who Killed the Electric Car and its sequel Revenge of the Electric Car.
It was exciting to watch the children who visited the booth quickly figure out how to build a continuous circuit using a Christmas light, wires and batteries. Many also took their curiosity to a toy car aerodynamic test, during which they discovered why placing a large luggage rack on a vehicle or driving a large SUV has much more drag (and decreases your fuel economy) than a curved sedan.
As this year's Solar Decathlon competition continues through October 2nd, I look forward to interacting more with visitors and sharing information about clean energy issues. Like many of my colleagues here at the Energy Department, I will be volunteering at the Solar Village throughout the week. Feel free to ask any one of us your energy efficiency questions – we're here to help!