You are here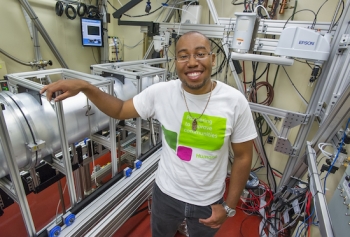 After his yearlong fellowship is completed, Polite Stewart hopes to head to graduate school to study more physics at Tokyo University. | Photo courtesy of Lawrence Berkeley National Laboratory.
Editor's Note: Below is an excerpt of a profile on Polite Stewart – one of the youngest scientists at the Energy Department's Lawrence Berkeley National Lab. For more on Stewart's journey to Berkeley Lab and his future plans, read the full profile on the Berkeley Lab site.
It is early morning at Berkeley Lab, and Polite Stewart, Jr. is preparing to gather synchrotron X-ray data from Beamline 7.3.3 at the Advanced Light Source. Not a bad job for a 19-year-old from Baton Rouge, Louisiana, where others his age are just now collecting their high school diplomas.
Stewart (his first name is pronounced Po-LEET) is accustomed to running ahead of the curve. He enrolled as a 14-year-old at Southern University-Baton Rouge, and graduated in December with a bachelor's degree in physics. He met his first particle accelerator at Fermi Lab, where he worked a summer job on a muon detector. Last summer, he interned as a researcher at North Carolina State University on a project to develop non-glare smart window glass.
Stewart applied for the job at Berkeley Lab after seeing a listing on LinkedIn. "I really didn't expect to hear back," he says. But his application caught the attention of Alex Hexemer and Eric Schaible, and within days he had an interview on Skype, a job offer as a Post-Baccalaureate Fellow, and a plane ticket to the Bay Area. His first day on the job was May 13.
For more on Stewart's journey to Berkeley Lab, check out the full profile on the Lab's website.