You are here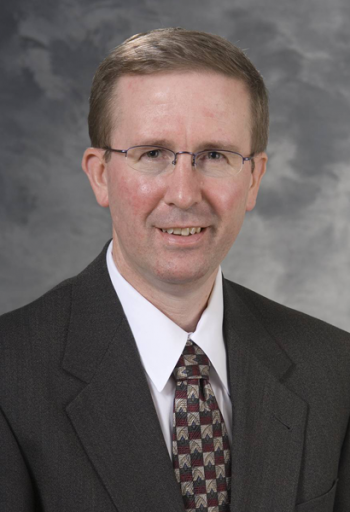 Todd Allen | Photo courtesy of the University of Wisconsin
Meet Todd Allen – he wears a lot of hats in the nuclear engineering world. He serves on the faculty of the University of Wisconsin as a nuclear engineering professor and material scientist. He is also the scientific director of Idaho National Lab's Advanced Test Reactor National Scientific User Facility, and the director of the Center for Material Science of Nuclear Fuel, an Energy Frontier Research Center.
Question: What's the most exciting thing you've been able to do or place in the world you've been able to visit as a result as your job as a materials scientist?
Todd Allen: Ignoring the question you asked, the most exciting thing I've ever done is bringing a submarine to periscope depth in a shipping lane in the Strait of Juan de Fuca, and find myself looking at the side of a major shipping tanker through the periscope. Getting back to your question, it was visiting the Institute for Nuclear Physics in Kazakhstan, not because they had any fantastic equipment, but because of their ability to do creative research with far fewer resources than we have in the United States.
Q: What made you want to be a scientist and go into this field?
TA: I suppose there was a certain amount of serendipity and allowing myself to take a chance on interesting opportunities. I accepted an undergraduate Navy ROTC scholarship to Northwestern University, primarily to make college affordable. When I realized my first job would be a submarine officer, I became interested in nuclear engineering.
As an undergraduate, a professor who likely had no idea how influential his random remarks would be, put the idea into my head that material science was the key to the future of nuclear energy systems. Following my submarine tour of duty, I taught physics at the U.S. Naval Academy where I discovered that teaching could be fun. When I decided to leave the active-duty Navy, the nexus of my life's experiences pointed me in the direction of getting a Ph.D. in nuclear engineering with a specialization in materials science, so off to the University of Michigan I went.
Q: What do you do in your spare time?
TA: In my spare time from my faculty position at Wisconsin, I run the Advanced Test Reactor National Scientific User Facility (ATR NSUF) and the Center for Material Science of Nuclear Fuel (an EFRC) at Idaho National Laboratory (INL). In my spare time at INL, I run a research group at Wisconsin. In the other spare moments, I hang out with my wife and dogs, running, and watching movies. I am also quite dedicated to baseball and will always try to catch a game if possible. My best summer was visiting 45 different stadiums around the world.
Q: What advice would you give students or young scientists going into the field of nuclear energy/materials research?
TA: Never assume that your current adventure will be your last. If you do well at things, you will be offered a series of other exciting adventures from which to choose. As long as you are having fun and growing, the adventures will keep coming.
Q: What research are you watching (besides your own)?
TA: I am particularly fascinated by research being done by people outside the nuclear community. In the 1990s when the nuclear research community became very small, the community lost momentum in many areas like use of synchrotron light sources, neutron scattering facilities, and advanced computation. While we are catching up, I still find knowledge in some other areas to be more advanced, and we need to bring this new thinking into the nuclear field.
Q: What is the ATR NSUF, or for that matter, a national scientific user facility in general?
TA: National scientific user facilities house major scientific instruments, like synchrotron light sources and nanotechnology facilities, that are expensive enough that the U.S. is limited in the number they can build. The user facility model recognizes that the best use of the capability occurs when the capability is opened to the best ideas in the research and development community. These ideas are identified through a proposal and peer review process. The ATR NSUF is based around the Advanced Test Reactor, a material test facility at the INL.
Q: What types of research can be performed at/with the ATR NSUF?
TA: The ATR NSUF supports research that is based in reactor testing. This research primarily involves understanding the effects of irradiation on material performance and extends to the development of instrumentation for measuring radiation or monitoring material performance in the presence of radiation fields.
Q: What makes ATR NSUF unique?
TA: The ATR is an amazing machine that has the ability to run four separate power levels in the same reactor with independent conditions (for example, water or helium) in approximately 75 different test locations.
Q: How do partner facilities factor in and how many partner facilities does ATR NSUF have?
TA: We currently have two national laboratory partners Oak Ridge National Laboratory and Pacific Northwest National Laboratory and eight university partners.
Q: Where do you see the ATR NSUF going in the future? Is there a limit to the number of partners you could have?
TA: I think the distributed partnership model we are using in the ATR NSUF is a logical pathway for the way research could be done across the world. The theme is to partner the people with the best ideas in the world with the best capability. This trend is already happening in many user facilities, like the Energy Frontier Research Centers and Energy Innovation Hubs. Information technology will continue to make this model of distributed person-to-person interactions easier. It will take a while to catch on because the model asks people to dedicate themselves to ideas rather than institutions, but I believe it is a better way to take advantage of the skills of the scientific community.
This is the latest post in the 10 Questions series, introducing you to Energy Department researchers and the incredible work they do.