You are here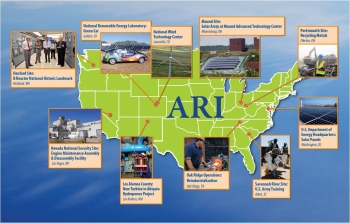 Diversify: 
SRS opened a new curation facility to preserve Cold War artifacts.
SRS is home to the FBI's Radiological Evidence Examination Facility and US Army Training Exercises.
DOE invested in projects at Richland and Oak Ridge to develop efficient materials for advanced vehicles.Visitors to Hanford's B Reactor National Historic Landmark brought $2.5 million to the local economy.
Northern New Mexico organizations and industry are moving technologies to commercialization through venture capital funding and business assistance.
Los Alamos' robust work for others program integrates both federal and non-federal entities.
At INL, the Advanced Test Reactor, originally used for US Naval Reactor development and operations, is now available  for experiments from private sector and academic researchers.
Energize: 
Local communities have partnered with small modular reactor (SMR) developers to compete and locate facilities at DOE sites.
The rooftop solar system at the DOE Forrestal Building is one of the largest in the capital and provides power as well as valuable data about solar performance in varying light conditions.
The Durango Mill Tailings Disposal site  in CO has been leased to establish a solar power facility.
Pantex solicited companies to build a wind farm at the site that will not only supply power but will be a resource for wind-energy research for Texas Tech University
The Abiquiu Low-Flow Turbine Hydropower Project in New Mexico funded through matching funds from DOE ARRA and the private sector funds will supply clean energy to Los Alamos County including the National Laboratory.
Reduce/Reuse: 
Oak Ridge's former K-25 uranium enrichment plant is now the Heritage Center Industrial Park.
At Portsmouth, DOE and Fluor B&W have partnered with the local community to transfer more than 8 M lbs of metal and other clean demolition debris and usable equipment from demolition projects for resale to recyclers to support economic development in the local counties. 
Thousands of acres of land have been or are planned for transfer from LANL to Pueblo de San Ildefonso and Los Alamos County in New Mexico.  Planned areas include portions of TA-21 to Los Alamos County upon completion of cleanup. 
Hanford began transferring land in 1958, with the entire city of Richland to public ownership.  Subsequent transfers to the City and Port of Benton have resulted in an industrial Park, redevelopment of the Airport, and development of the Port of Benton as  a "Nuclear Port".
In Dec 2010, the Salmon Site near Hattiesburg, Mississippi became property of the State for timber production and as a wildlife refuge   
Modernize:
Sites update 10-year site plans and Site Sustainability plans on a yearly basis which provide an outlook on future site infrastructure needs, plans, infrastructure projects, and demolitions.
SRS replaced its 1950s-era coal-fired power plant with a renewable energy biomass facility that meets the sites energy demands, reduces greenhouse emissions, and creates jobs by using local fuel sources.  EO 13514 requires a 30% reduction by FY 2015 compared to a FY 2003 baseline; SRS is currently well ahead of the goal by achieving a 43.2% decrease through FY 2012 primarily due to positive impacts from the new Biomass Cogeneration Facility (BCF).
SRS has also already exceeded its 2020 goal of a 28% Scope 1 and 2 GHG reduction. Its 29.7% reduction in FY 2012 is thanks in large part to the BCF.
DOE has increased electric vehicle use in Federal fleets at across the complex and is leveraging  research at the National Renewable Energy Lab on hybrid vehicle systems, fuel economy, propulsion, etc, to help private industry reduce fuel use and achieve cost-savings.
DOE professionals and teams across the complex are recognized for outstanding contributions to energy, water, and vehicle fleet management and associated savings at DOE facilities via yearly Sustainability Awards.   http://www1.eere.energy.gov/sustainability/awards.html