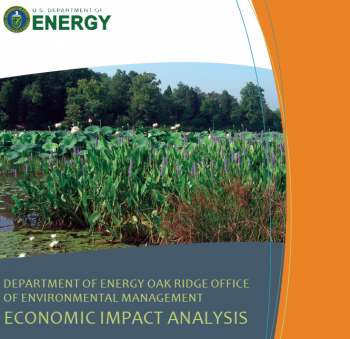 Cover of the summary document exploring OREM's economic impact.
OAK RIDGE, Tenn., February 12, 2016 – The Howard H. Baker Jr. Center for Public Policy has published two reports highlighting the economic impacts of the Department of Energy's (DOE's) Oak Ridge Office of Environmental Management (OREM). The reports were commissioned by UCOR on behalf of OREM. A summary of both reports is available here.
Key findings show that Environmental Management contributed significantly to the economies of Anderson, Roane and Knox County, as well the State economy in FY 2014 (October 2013-September 2014). The expected economic impact of a new onsite disposal facility was also analyzed and found substantial employment, local sales tax revenue and state GDP benefits.