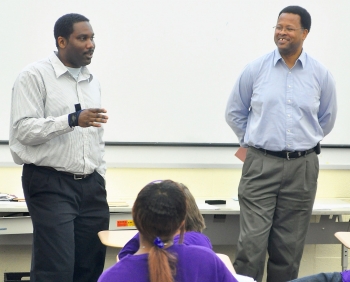 Aaron White (left), an environmental scientist with OREM, speaks to Vine Middle School students about the opportunities available through a college education.
The Oak Ridge Office of Environmental Management (OREM) recently participated in Vine Performing Arts and Sciences Magnet Middle School's 6th Annual College and Career Week. Since the event's inception, OREM has sent employee representatives to the Knoxville-based middle school to educate children about the value of education and the diverse jobs that are possible through the sciences.
This year, Aaron White, an environmental scientist with OREM, spoke to a classroom full of seventh graders interested in learning more about his position with the Energy Department and the opportunities available through a college education.
"This is my third year to speak at Vine Middle School," Aaron said. "I love going, and I keep going back because I want each class to know the opportunities available to them through S.T.E.M. disciplines."
Aaron is an ecologist by training after finishing his bachelor's degree in Biology with a minor in Chemistry and a master's degree in Environmental Science. He primarily works with waste management projects for OREM, ensuring employees correctly handle waste and dispose radioactive material using methods that do not negatively impact residents or the surrounding environment.
"I talked about what I do personally, and what the Energy Department and EM do, but we focused more on the importance of doing well in school, how to get good jobs, and what they wanted to pursue."
The annual event is held in conjunction with the UUNIK Academy, and it exposes low-income, inner-city kids to a variety of personalities and professions that will help them make informed life and career choices.