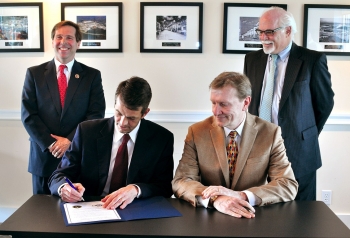 (L to R) U.S. Congressman Chuck Fleischmann, EM's Principal Deputy Assistant Secretary Mark Whitney, CROET CEO Larence Young, and David Klaus, DOE's Deputy Undersecretary for Management and Performance, participate in a signing event that transfers 25 acres for private development at ETTP.
OAK RIDGE, Tenn.— On May 14, the Department of Energy (DOE) transferred its 12th property, approximately 25 acres at the Heritage Center, to the Community Reuse Organization of East Tennessee (CROET). The site was officially signed over to CROET for private sector use. 
Congressman Chuck Fleischmann and David Klaus, DOE's deputy undersecretary for management and performance, joined the group of area business leaders for the celebration.
"The reindustrialization program in Oak Ridge has not only been an economic development catalyst for the region, it is saving tax payers millions of dollars as the federal government transfers underutilized assets to the private sector," said Fleischmann.  
To date, eight of the properties which have been transferred to CROET have been sold or optioned to private industry, saving DOE nearly $6.5 million while providing an increase of more than $60,000 in annual tax revenue to the City of Oak Ridge. Additionally, more than 200 acres of underutilized DOE property has been transferred to CROET and re-developed with more than 100,000-square-feet of new construction. 
Lawrence Young, president and CEO of CROET, said that the site was essentially to a point where no property was readily available for development, so this transfer of a large, flat piece of land provides a new opportunity for economic development. 
"The transformation that has taken place at ETTP over the last two decades is astounding, and it shows what commitment and collaboration can accomplish," said Young.  "When you look at the two reuse initiatives at ETTP, Oak Ridge has benefitted by more than $100 million worth of capital investment and more than 1,000 jobs."  
ETTP also includes the Horizon Center, which was transferred to the Oak Ridge Industrial Development Board to provide more streamlined service for private sector companies looking to locate in the park. 
"Today's transfer confirms the progress of our Environmental Management program," said Mark Whitney, former manager of the Oak Ridge Office of Environmental Management (EM) who now serves as EM's Principal Deputy Assistant Secretary in Washington, D.C. "Our cleanup at the site is preparing land and facilities for transfer and creating opportunities that will benefit the region's economy.