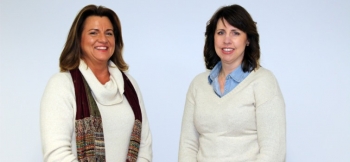 (Left to right) Kennetha Eikelberg and Elizabeth Ross were appointed to the Oak Ridge Site Specific Advisory Board in February 2016.
Oak Ridge, Tenn. – The U.S. Department of Energy (DOE) has appointed two new members to its Oak Ridge Environmental Management advisory board. Kennetha Eikelberg and Elizabeth Ross were appointed to the Oak Ridge Site Specific Advisory Board (ORSSAB) in February.
ORSSAB is a federally chartered citizens' panel that provides independent advice and recommendations to DOE, which is responsible for the cleanup of the Oak Ridge Reservation.
The two new members were introduced at ORSSAB's February 10 meeting.
Eikelberg, a Knoxville resident, is a self-employed corporate regulatory compliance consultant with more than 25 years of industry experience and extensive knowledge of the site's cleanup efforts. She previously served as a contract directives manager for the Transuranic Waste Processing Center in Oak Ridge. She has also served as a work control planner and engineer with Bechtel Jacobs on decontamination and decommissioning projects at the East Tennessee Technology Park.
Eikelberg received her associate degree in civil engineering technology and her bachelor's degree in business from Purdue University. She also holds an M.B.A. from American Intercontinental University.
Ross, who also resides in Knoxville, is the vice president and Knoxville branch manager at Engineering Consulting Services (ECS) Central, a company that provides geotechnical engineering, environmental consulting, construction materials testing, and facilities engineering services. A former OSHA health compliance officer with more than 15 years of technical experience, she currently serves as the lead environmental principal for indoor air quality services for ECS Carolinas and ECS Central.
Ross received her bachelor's degree in biology from Winthrop University and her master's degree in industrial hygiene from Montana Tech of the University of Montana. She is a member of the Environmental Information Association and has an interest in environmental and economic development issues.
ORSSAB meets the second Wednesday of each month at 6 p.m. at the DOE Information Center, 1 Science.gov Way in Oak Ridge, Tenn. Meetings of the board and its committees are open to the public. For more information, visit ORSSAB's official website or follow the organization on Facebook and YouTube.