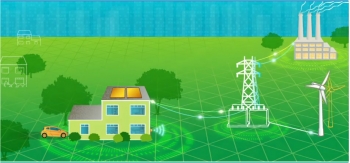 The Advanced Grid Integration (AGI) Division leads the federal government's efforts to accelerate modernization of the U.S. electric power grid. By enabling the two-way flow of electricity and information, a Smart Grid will increase the reliability, efficiency, and security of electric transmission, distribution, and use. A modern grid provides the foundation for a strong economy by enabling the integration of clean, renewable energy sources like wind and solar power and supporting the needs of an increasingly digital economy.
AGI leverages energy industry cost-share and collaboration to foster the deployment of smart grid technologies and systems and reduce barriers to investment. To accomplish this, the Program is pursuing five core objectives:
Catalyze the deployment of smart grid technologies and systems — The American Recovery and Reinvestment Act of 2009 awarded $3.4 billion in federal Smart Grid Investment Grants to 99 investor-owned and municipal utilities, transmission operators, and electric co-ops. With matching funds, those project teams are now investing a total of $7.8 billion to deploy smart grid technologies and systems throughout the grid. AGI is managing these projects through completion in 2015.
Evaluate the performance of smart grid technologies and systems — Unprecedented operating and performance data collected from the 99 smart grid investment projects will help determine technology effectiveness and identify future enhancements. A better understanding of Smart Grid efficiency improvements and cost savings will build a more informed business case for utility investment. 
Actively communicate the results and benefits of smart grid deployments — To catalyze ongoing investment in grid modernization, AGI is working closely with stakeholders to understand their specific information needs and provide objective smart grid benefits and impact data to the public and key industry decision makers. Armed with this information, stakeholders can make better-informed investments and develop policies and programs.    
Advance the state-of-the art in cybersecurity — To ensure smart grid systems are properly protected, the Division fosters peer-to-peer information exchange of best practices and works with utilities to identify cybersecurity gaps and needs. AGI also works with researchers and industry associations to match their needs with useful tools, programs, and technologies, and inform future research.  
Advance smart grid interoperability and standards — To improve efficiency and enable greater adoption, the Division works with the private sector, the Smart Grid Interoperability Panel, and the National Institute of Standards and Technology to collaboratively develop smart grid interoperability standards that will ease smart grid technology and system integration.
For more information about the Smart Grid Investment Grant projects and their results, visit Smartgrid.gov and the OE website.
To learn more about the public-private effort to develop interoperability standards, visit the National Institute of Standards and Technology's Smart Grid website.