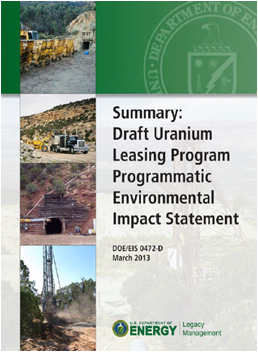 DOE has issued the Draft Uranium Leasing Program Programmatic Environmental Impact Statement (ULP PEIS)(DOE/EIS-0472D) for public review and comment.  The document is available here and on the ULP PEIS website.
Under the Uranium Leasing Program, the DOE Office of Legacy Management administers 31 tracts of land in Mesa, Montrose, and San Miguel counties that are leased to private entities to mine uranium and vanadium. The program covers an area of approximately 25,000 acres. No mining operations are active on the ULP lands at this time. DOE is preparing the ULP PEIS to analyze the reasonably foreseeable potential environmental impacts, including the site-specific and cumulative impacts, of the range of selected alternatives for managing the program.
DOE invites Federal agencies, state and local governments, Native American tribes, industry, other interested organizaitons, and members of the public to comment on the Draft ULP PEIS.  DOE will consider all comments postmarked or received by May 16, 2013, in preparing the Final ULP PEIS, and will consider any comments received after the comment period to the extent practicable.
DOE will host four public hearings during the week of April 22 to take public comments on the Draft ULP PEIS in the Colorado communities of Grand Junction, Montrose, Telluride and Naturita. Information about the public hearings and how to provide comments is available here and on the ULP PEIS website.