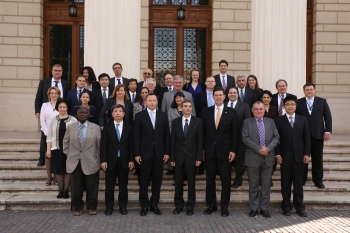 Earlier this month, Edward McGinnis, Deputy Assistant Secretary for International Nuclear Energy Policy and Cooperation, traveled to Bucharest, Romania to take part in the International Framework for Nuclear Energy Cooperation (IFNEC) Expert meetings.  Mr. McGinnis serves as Chair of the IFNEC Steering Group. 
The Expert meetings were broken down into three meetings 1) Reliable Nuclear Fuel Services Working Group (RNFSWG), 2) Infrastructure Development Working Group (IDWG) meeting and 3) an IFNEC Steering Group meeting. 
The RNFSWG workshop included participation from industry, advanced nuclear fleet reactor states, as well as newcomer states in order to further develop commercially-based options for regional and international disposal of used nuclear fuel and waste.  Participants examined how such services could develop in the global market and propose next steps for IFNEC and the working group.  The IDWG addressed SMR Research & Development, Human Resource Development, and Waste Management issues.  To wrap up a very successful series of meetings, the Steering Group covered IFNEC objectives for this year and held a Special Finance Session conducted by a team of international experts.
5 Facts you didn't know about IFNEC
IFNEC consists of 63 countries and three international organizations representing every major geographical area globally and ever major stage of economic and technical stage of development.  While IFNEC recognizes and supports the right of a country to decide whether or not to peacefully access nuclear energy, IFNEC is not promotional when it comes to nuclear energy but rather neutral.  It provides a forum for cooperation among participating states to explore mutually beneficial approaches to ensure the use of nuclear energy for peaceful purposes proceeds in a manner that is efficient and meets the highest standards of safety, security and non-proliferation.
 
IFNEC was established on June 16-17, 2010, in Accra, Ghana, the Partner countries of the Global Nuclear Energy Partnership (GNEP) formally agreed to transform the partnership IFNEC and adopt a new Statement of Mission.  IFNEC rotates where meetings are held amongst the IFNEC countries.  Among other things, it provides an opportunity for IFNEC countries to appreciate first-hand the vital role energy plays throughout the world and how nuclear energy is being used or considered.
 
All countries in IFNEC have co-equal decisionmaking authority.  No one country has is treated differently than the other.  Consensus-based decisionmaking is the approach IFNEC takes with the three principals always applied – respect, respect, and respect for each ultimately unique energy challenges and needs.
 
The IFNEC Executive Committee meets once a year to lay the groundwork for the year to come.  Last year, the Executive Committee met in Abu Dhabi and agreed to hold a Comprehensive Fuel Services Industry Workshop and a Steering Group meeting, both to be hosted by Romania.  Additionally, they agreed to hold a workshop on IFNEC Small Modular Reactors (SMR) in Jordan and a Gaps and Resources Workshop in Ghana.
 
The SMR Workshop will be hosted by the Jordan Atomic Energy Commission in Jordan, June 11-12, 2014, in the Dead Sea. The goal of this invitation-only workshop is to bring together, under the auspices of the 63 countries of IFNEC, the full spectrum of key stakeholders necessary to successfully deploy an SMR in order to gain an enhanced enterprise wide understanding of how an SMR could be effectively deployed in specific types of markets while identifying key challenges and opportunities.
For more information on IFNEC visit http://www.ifnec.org/