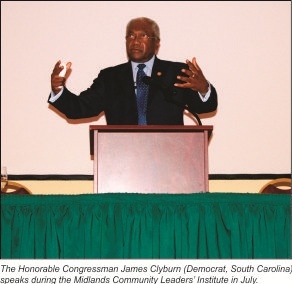 The Midlands Community Leaders' Institute (CLI), sponsored by the Medical University of South Carolina, the U.S. Department of Energy, U.S. Department of Defense, South Carolina State University, and Brookland Baptist Church was held in West Columbia, South Carolina, on July 13 and 14, 2012.  
The CLI continued to build on the theme Building and Sustaining Healthy Communities. A critical factor in the success of community development programs is a well-informed community. Action occurs when those with authority assume an informed and active leadership role. The purpose of the CLI is to help these leaders know how to access and obtain information necessary for making good decisions and communicating that information to the citizenry. 
The focus of this CLI was on the unique relationship between environmental protection, human health, environmental justice, and economic development. Sessions for this CLI included the role of government, focusing on the intergovernmental relationship between Federal, state, and local governments; issues and challenges experienced by youth in the community and the development of resources needed to meet the these challenges; economic development, housing, and health disparities and health issues, especially the combined effects of diabetes, hypertension, and obesity known as Metabolic Syndrome. The Honorable James E. Clyburn, House Democratic Assistant Leader, United States House of Representatives, gave the Keynote Address. The Midlands CLI was one of the largest held with over 350 participants.