The Board of Directors of the National Environmental Justice Conference, Inc. held the 2013 National Environmental Justice Conference and Training Program in Washington, DC, April 3 through 5, 2013. Sponsors included the U.S. Department of Energy (DOE), the U.S. Forest Service, the U.S. Environmental Protection Agency (U.S. EPA), the U.S. Fish and Wildlife Service, Howard University School of Law, industry, and academia. This 3-day series of discussions brought together members of the government, academia, communities, Tribal Nations, students, and businesses to share ideas and concerns regarding environmental justice (EJ).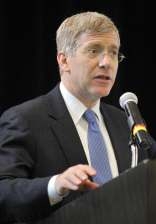 The Honorable Daniel B. Poneman, Deputy Secretary of Energy, served as the Keynote Speaker on day 2 of the conference. He was joined by the Honorable Congresswoman Donna Christensen, MD, U.S. Virgin Islands, and Mathy Stanislaus, Assistant Administrator for the Office of Solid Waste and Emergency Response, U.S. EPA.
Building on lessons learned from past conferences, participants were able to receive 2 days of "Technical Assistance Workshops and Training Programs" such as Capacity Building Tools for Fostering Dialogue, Action and Change in EJ Communities, Face-to-Face EJ Training, and Grant Writing and Technical Assistance. A reception was held with 16 Interagency Working Group members to celebrate the 20th anniversary of U.S. EPA's Office of Environmental Justice. Attendees gathered to remember and pay tribute to the former heroes of EJ, and to honor those who are collaborating at the forefront of EJ.
The continued partnership with Howard University School of Law provided opportunities for students, faculty, community, business, government leaders, and others involved in EJ to share best practices and lessons learned for capacity building and sustainability.
More than 300 attendees participated in this year's conference. Communication, information sharing, and networking were plentiful throughout the entire conference. This national conference allowed all a voice and seat at the table.
Plans are underway for next year's conference that will be held March 26 through 28, 2014. For more information and to register, please go to the conference website at http://thenejc.org. For additional information about DOE's EJ activities, please contact Melinda Downing, U.S. DOE Environmental Justice Program Manager at melinda.downing@hq.doe.gov or access DOE's Environmental Justice website, http://energy.gov/lm/services/environmental-justice.