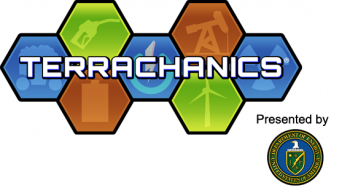 A deeper look at the mechanics and gameplay
Mechanics Breakdown
In Brief
Players must connect buildings together by allocating resources in a resource chain across the map. They must reach and resolve their Objective within a given number of turns to succeed.
To accomplish this, they have the following tools at their disposal:
Linking
Connect buildings together by allocating resources from buildings that produce them to buildings that need them. Use this to make a chain of links across the map to your Objective.        
                 
                              

Building Sites (aka the Hyperfabricator!)
Click on Building Sites to select buildings to 3D print at that spot. You will need to carefuly scan your surroundings to determine what building you need.

The Engineer
Direct the Engineer to repair broken outputs, or make repairs to free up resources that can be allocated to new buildings.

The Agent
Use the Agent to collect sensative Data Packages, then deliver them to resolve the Objectives that require them.