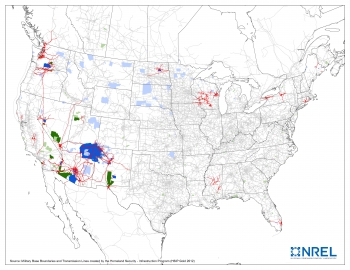 54% of the Tribes located in close proximity to military bases are located in the West, 18% in the Pacific Northwest, and 12% in New England and New York. Map from NREL
The DOE Office of Indian Energy is working with the U.S. Department of Defense (DOD) to help it obtain 25% of its energy from renewable energy and promote energy security by educating tribal leaders and military leaders on partnership opportunities as well as providing technical assistance to Tribes working with local military installations.
More than 50 Tribes are located adjacent to or near military installations, making them uniquely situated to build energy capacity and help the DOD achieve its strategic energy goals through renewable energy development partnerships on Indian lands.
Below are links to more information and materials.
Leveraging Tribal Resources to Support Department of Defense Strategic Energy Goals
This fact sheet identifies tribal technology generation potential in megawatt hours and Native American tribal lands located near military bases.
Military Base Off-Taker Opportunities for Tribal Renewable Energy Projects
This white paper surveys DOD installations that could have an increased potential interest in the purchase of energy from renewable energy projects on tribal lands. Identification of likely purchasers of renewable energy is a first step in the energy project development process, and this paper aims to identify likely electricity customers that tribal commercial-scale projects could serve.
Leveraging Tribal Resources to Support Military Energy Goals
This Tribal Leader Energy Forum held May 30-31, 2013, in Chandler, Arizona, provided information for western U.S. tribal leaders and military leaders on the renewable energy resource development potential on tribal lands. Tribal leaders had the opportunity to directly converse with each other and key military leadership by participating in a roundtable discussion to share ideas on how to capitalize on the various renewable energy opportunities and partnerships with the military.
Tribal and Military Leaders Come Together to Talk Renewable Energy
This article provides a brief overview of the Tribal Leader Forum, held May 30 - 31, 2013, in Phoenix, Arizona, which provided an opportunity for Tribes to discuss how to develop the wealth of renewable resources on their lands with the goal of providing energy to DOD installations that are close to tribal lands.
Webinar: Department of Defense Contracting Requirements for Energy Procurement
This Office of Indian Energy webinar highlights how the DOD procures energy, energy products, and energy sources. Recorded on May 15, 2013.
Renewable Energy for Military Installations: 2014 Industry Review
The report, produced by the American Council on Renewable Energy, is intended to be a resource for Department of Defense and military service officials as they design and amend renewable energy programs, for renewable energy companies and investors as they navigate the military's procurement processes, and for other interested parties.
A group of prominent renewable energy developers, energy service companies, financiers, law firms, and other groups working with the military authored the 12 articles in this report. The articles generally provide insight about present business opportunities for third‐party‐owned renewable electricity projects at military installations. It should be noted that the military employs renewable energy through a number of diverse applications that continue to expand, and this report does not attempt to give a comprehensive overview of every renewable energy technology or procurement option available.