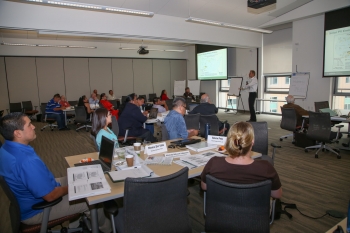 The Office of Indian Energy's Community- and Facility-Scale Tribal Renewable Energy Project Development and Finance workshop was held September 18-20 at the National Renewable Energy Laboratory in Golden, Colorado. Photo by John De La Rosa, NREL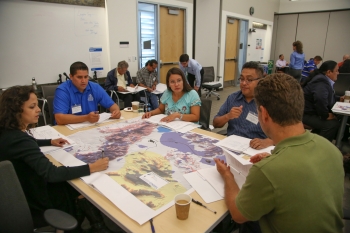 Workshop attendees reviewed renewable energy resource maps to identify the best sites for potential projects based on available resources. Photo by John De La Rosa, NREL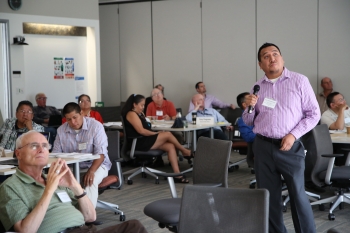 Workshop guest speaker Ken Duncan, Jr. of the San Carlos Apache Tribe told participants about how a 10-kilowatt solar installation at the community radio station not only demonstrated the viability of solar power on the reservation, but also served to keep the radio station functioning and the community informed during recent storm related power outages. Photo by John De La Rosa, NREL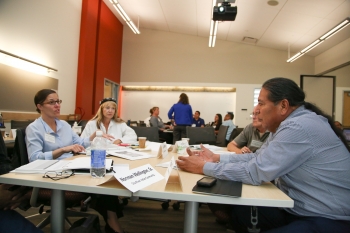 Workshop guest speaker Jana Ganion of Blue Lake Rancheria (shown here to the left sitting at a table with workshop participants) provided an inspiring story of how effective strategic energy planning can help a Tribe take a leadership role in renewable energy development. Photo by John De La Rosa, NREL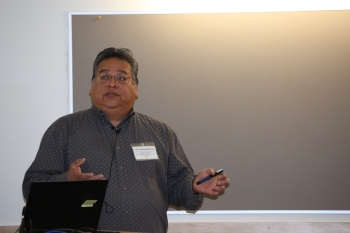 Workshop guest speaker David Lewis of the Yavapai-Apache Nation brought it all together in the end with a reminder of how important it is to be persistent and turn challenges into opportunities for success. Photo by John De La Rosa, NREL
The U.S. Department of Energy Office of Indian Energy hosted a second tribal renewable energy project development and finance workshop September 18-20 at the National Renewable Energy Laboratory (NREL) in Golden, Colorado, this time focusing on community- and facility-scale development. Our previous workshop in July centered around commercial-scale development. Whereas commercial scale development is intended for power export and sale, community- and facility-scale development is intended for use within the community or at the facility at which it is developed. Forty-two participants, including representatives from 26 Tribes as well as several federal agencies, took part in this most recent training opportunity to learn about how to develop and finance these unique and smaller scale projects that can serve to reduce costs, increase reliability, and support tribal goals for energy self-sufficiency.
The workshop, which is part of the Office's renewable energy development education and training curriculum for Tribes and built upon a pilot workshop held last June, walked participants through the project development process beginning with strategic energy planning. One of the key strengths of the training was the participation of tribal guest speakers:
Mike Triplett of the White Earth Reservation shared an example of a successful biomass and municipal solid waste project that turns waste into energy.
Jana Ganion of Blue Lake Rancheria provided an inspiring story of how effective strategic energy planning can help a Tribe take a leadership role in renewable energy development.
Gail Haozous and Ken Duncan, Jr. of the San Carlos Apache Tribe talked about how a 10-kilowatt solar installation at the community radio station not only demonstrated the viability of solar power on the reservation, but also served to keep the radio station functioning and the community informed during recent storm related power outages.
David Lewis of the Yavapai-Apache Nation brought it all together in the end with a reminder of how important it is to be persistent and turn challenges into opportunities for success.
In between guest speakers, participants worked through exercises with NREL technical staff and experts, gaining hands-on experience with identifying project potential, reviewing energy resource maps to make site selections, writing and evaluating requests for proposals, and determining finance options that best serve the project goals of the Tribe. Additionally, participants learned about net metering, the difference between grid connected and non-grid connected projects, and the concept of levelized cost of energy—so important in determining the economic feasibility of a project.
They also received training on how to use the many tools available through NREL including the System Advisor Model and the Renewable Energy Project Finance website. Armed with these tools and knowledge of key concepts such as the levelized cost of energy, tribal leaders and staff left with the ability to do better than back-of-the-envelope estimates of potential renewable energy projects.
"I would attend this session again. I probably will," said Gary Burns, Environmental Director for the Shoalwater Bay Indian Tribe. "I would certainly recommend it to tribal energy directors."
Finally, I have to recognize our workshop participants. They came prepared to learn, contributed greatly to the conversation and exercises, and stuck it out through three very intense days of education. As we wrapped up on the afternoon of the third day I overheard one participant comment that if he couldn't get a project completed after this training, he was never going to get it done. He'll get it done. My experience spending three days at the training confirmed my belief that the talent and commitment within Indian Country is strong enough to fulfill the vision that many share for greater tribal self-sufficiency through the development of reliable and sustainable energy resources.
The workshop is just one of the many education and training resources offered by the Office of Indian Energy. Learn about the Office's key technical assistance and education accomplishments over the past two years in the Strategic Technical Assistance Response Team Program & Capacity Building 2012-2013 Success Highlights brochure.
Additional Reading Materials