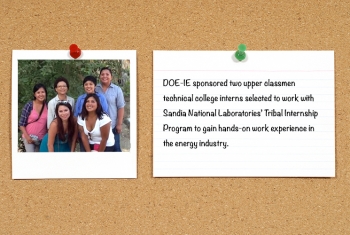 Pictured from left to right on Agua Caliente tribal land: Colleen Cooley, Student Intern Program Supervisor Sandra Begay-Campbell of Sandia National Laboratories, Chelsea Chee, Nikki Tulley, Nora Cata, and Jessica Rodriguez. Photo from Sandra Begay-Campbell, Sandia National Laboratories
Since 2002, Sandia National Laboratories' Tribal Internship Program has provided Native American college students with hands-on work experience in the energy industry. Over the past decade, Sandia has worked with 27 student interns representing 16 different federally recognized Tribes and 12 different college majors.
All of the students selected to participate in the program are Native American; have a strong, articulated interest in Indian renewable energy; have achieved an undergraduate GPA above 3.2; and are pursuing
an upperclassman or graduate school technical major. In 2012, the Office of Indian Energy sponsored two upper classmen technical college interns selected to work at Sandia National Laboratories in Albuquerque, New Mexico: Nikki Tulley and Jessica Rodriguez.
Tulley, who is from the Navajo Nation and is working on a bachelor's degree in environmental science at the University of New Mexico in Albuquerque, said she applied for the internship to gain experience working with tribal nations on renewable energy applications. She ended her summer internship with research that she plans to continue through her last semester of study.
Hailing from the Pueblo of Laguna, Rodriguez is working on a bachelor's degree in environmental science at Haskell Indian Nations University in Lawrence, Kansas. "I feel that being in the field and hearing tribal members relate to their land can provide insight as to how the Department of Energy can help [Tribes] extract the energy needed while preserving cultural sensitivity," Rodriguez said.
Part of a team of five Native students who participated in the 12-week summer internship program, Tulley and Rodriquez worked closely with their technical mentor, Sandia's Office of Indian Energy program lead, Sandra Begay-Campbell. Throughout their summer experience, the Office of Indian Energy supported their interest in Indian energy development, enabling them to gain field experience by attending energy seminars; visiting Indian renewable energy projects during field trips where they met with tribal representatives; and experiencing Sandia's technical assistance interactions firsthand.
The interns' summer research will culminate with written reports on Indian renewable energy topics they selected with guidance from Begay-Campbell and Office of Indian Energy Deputy Director Pilar Thomas. Tulley's paper is titled Adapting Renewable Energy Systems for a Changing Climate in Remote Tribal Communities – Navajo Nation, AZ. Rodriguez's paper is titled How the Sale of Tribal Renewable Energies to the U.S. Military Can Benefit All: Case Study of Pueblo of Isleta.
Learn more about the Sandia internship program. Past reports, along with Tulley's paper, once available, can be found in the Office of Indian Energy's Resource Library.