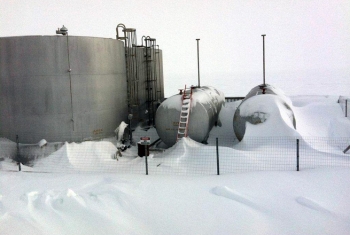 The combination of the Native Village of Teller's limited fuel storage capacity and a harsh winter led to a supply shortage. Photo by Alexander Dane, NREL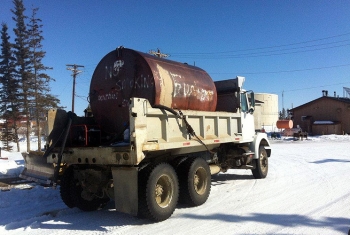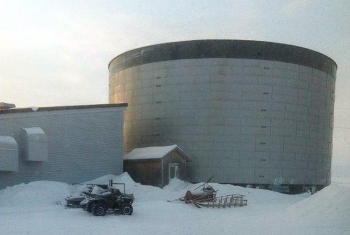 Native Village of Teller fuel storage. Photo by Alexander Dane, NREL
Challenge: The Native Village of Teller in Alaska has long been challenged by bulk fuel storage limitations. Alaska Village Electric Cooperative (AVEC) is the village's electric utility, which runs its own diesel fuel bulk storage facility for the diesel generators. However, residential heating oil and fuel for all public buildings except the school are provided by the Native Village Corporation (Teller Native Corporation [TNC]) and stored in a separate bulk fuel facility.
The limited capacity of TNC's fuel storage came to a head this past winter. Extreme cold and increased demand for heating fuel resulted in fuel supply running short. To obtain heating fuel, villagers were making daily trips to Brevig Mission (a village six miles away) on snow machines over a frozen inlet of the Bering Sea, to tow small amounts of heating oil back to Teller.
Brevig Mission, which was also running low on fuel, had plans to increase the price per gallon, thus raising the cost for Teller residents. There also were restrictions on the amount of fuel Teller could purchase (200 gallons per day for the entire village).
Solution: While on an Office of Indian Energy Strategic Technical Assistance Response Team (START) Program site visit to Teller in April 2012, the START team facilitated the transfer of a 600-foot fuel hose owned by Nome Joint Utilities to pump and transfer fuel from an AVEC tank to a TNC tank. The START team helped coordinate activities among Nome Joint Utilities, AVEC, and the Teller Native Corporation. With the assistance of AVEC personnel, 10,000 gallons of fuel were successfully transferred into TNC fuel storage, allowing community residents and public facilities to eliminate daily fuel trips and secure their heating supply for the remaining months of winter.