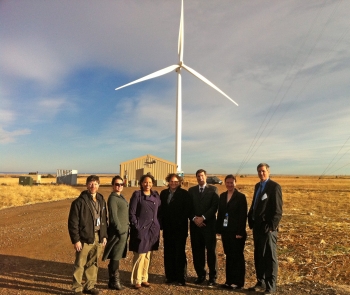 The Office of Indian Energy and the Denali Commission tour the National Wind Technology Center in Colorado. | Photo courtesy of NREL.
Last month, I joined my colleagues from the Energy Department's Office of Indian Energy  and the Denali Commission to tour the National Wind Technology Center in Colorado. We explored opportunities to leverage federal resources and expertise to help Alaska Native and Native American communities deploy clean energy projects, advance Tribal economic competitiveness, and create jobs. 
These discussions not only serve to strengthen collaboration, but are also in response to Tribal requests and input gathered through a series of roundtables our office has held across the nation over the past year. Given the enormous impact high energy costs have on these rural communities, we are committed to providing Tribal communities with the technical and reliable tools and resources they need to advance clean energy deployment and build a sustainable energy future.
This week, leaders from the 565 federally recognized Tribes have joined with the Obama Administration for the third White House Tribal Nations Conference to discuss these efforts and others that impact Tribal communities across the United States. I am excited to join conversations on how the Energy Department can work with Tribes to develop innovative solutions to our energy challenges.
Today, I am also pleased to announce the launch of the Energy Department's Strategic Technical Assistance Response Team (START) initiative aimed at advancing clean energy generation in Indian Country. We're also partnering with the Denali Commission to provide Alaska Native governments with technical assistance to accelerate clean energy project deployment. Through START, experts from the Energy Department, our National Laboratories and the Denali Commission will work directly with community-based project teams to evaluate financial and technical feasibility and provide early development technical assistance to better position projects for financing and construction.
Check out more information on START and other Office of Indian Energy initiatives at energy.gov/indianenergy.