Damian Bednarz - Chief of Staff, Office of International Affairs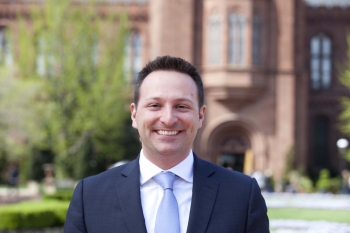 Damian Bednarz currently serves as the Chief of Staff in the Office of International Affairs at the U.S. Department of Energy.  He is responsible for managing daily operations, advising senior officials on international energy policy, and coordinating strategic initiatives. Prior to his current role, Mr. Bednarz served as the White House Liaison for the Department where he coordinated between the Executive Office of the President and the Secretary of Energy on organizational planning, personnel recruitment, and senior leadership transitions. 
Damian Bednarz joined the Department in 2009 as Special Assistant in the Office of Policy and International Affairs.  His portfolio consisted of regional energy issues in Central/Eastern Europe and the Middle East as well as domestic efforts on clean energy deployment, trade and investment advocacy, and the national ocean policy. 
In 2012, Mr. Bednarz was awarded the Gold Cross of Merit by the Republic of Poland, the country's highest civilian honor, for building a stronger relationship on energy and climate cooperation between the United States and Poland.
Prior to joining the U.S. Department of Energy, Mr. Bednarz spent two years working on digital strategy and communication efforts with the Obama for America campaign. From 2005 to 2007 he worked in several research, policy development, and communication roles. 
Damian Bednarz is a graduate of Marist College (B.A. Political Science) and Seton Hall University (M.A. Diplomacy and International Relations).  Mr. Bednarz  also researched Polish political parties and the mechanics behind parliamentary coalition building as a Fulbright Scholar in Warsaw, Poland from 2004 to 2005.