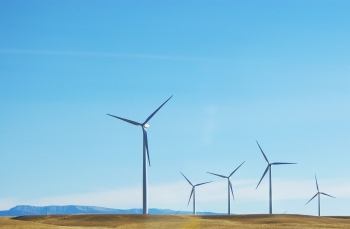 Photo courtesy of Free Images.
Welcome to the U.S. Department of Energy's Office of International Affairs (IA). IA has the primary responsibility for coordinating DOE's international cooperation in the areas of energy, science, and technology. Our office responds to some of the most pressing global challenges – from energy security to climate change – by engaging with governments, non-governmental organizations, and private sector partners from all over the world.
International energy collaborations have never been more important than they are today. The United States seeks to forge mechanisms to accelerate the development, dissemination, and deployment of clean energy technologies and policies both at home and around the globe. Meanwhile, the United States is experiencing a time of plenty in our own energy production—from oil and gas to wind and solar. In an increasingly interconnected world, such changes in energy production and consumption can have profound impacts on the global energy system. At the Office of International Affairs, we work with international partners to promote solutions to common challenges.
The "Initiatives" section of the IA website highlights some of the ongoing efforts that drive the daily work of the Office of International Affairs. Some of our numerous bilateral engagements are highlighted in this section, including our cooperation with countries like Canada, China, India, and Turkey just to highlight a few.
In addition to bilateral cooperation, IA is involved in multilateral fora that bring together diverse groups of international partners. The Clean Energy Ministerial (CEM), for example, is a high-level global forum that seeks to accelerate the transition to a global clean energy economy. Over 20 governments and the European Commission participate in CEM. Together, these participating governments represent 90% of global clean energy investment and 80% of global greenhouse gas emissions. By working together through a multilateral platform like CEM, these governments can accomplish more than by working alone.
From government-to-government consultations to multilateral dialogues to stakeholder engagements, IA coordinates the efforts of DOE's diverse elements to ensure a unified voice in our international energy policy. This unified voice is made possible by the IA experts who maintain a wide base of knowledge about countries, regions, technologies, and issue areas. Learn more about IA's experts and offices by visiting the "Services" and "About Us" tabs, respectively.
The Office of International Affairs also leads the Department's bilateral and multilateral cooperation on research and development (R&D), investment, and trade activities with our international partners. All of our efforts are integrated with the work of other U.S. agencies through interagency coordination processes. Learn more about the Department's active commitments with over 70 countries and 11 international organizations by navigating to the "International Commitments" page from the "Initiatives" tab.
We cannot respond adequately to our energy security and climate challenges without engaging with our international partners. The Department of Energy has longstanding cooperative agreements with international partners in all areas of its mission. The Office of International Affairs works to take full advantage of these efforts and to find solutions to our shared global challenges.