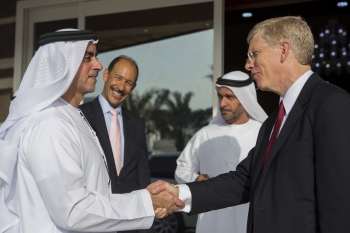 Deputy Secretary Poneman traveled to Abu Dhabi, UAE, to join Energy Minister Suhail Al Mazrouei in launching the U.S.-UAE Strategic Energy Dialogue on June 23.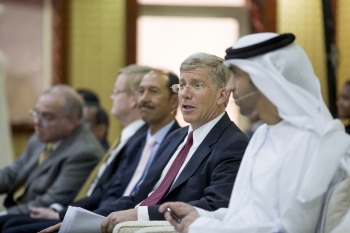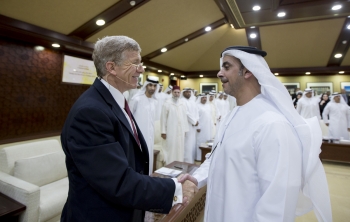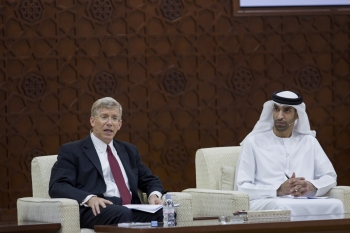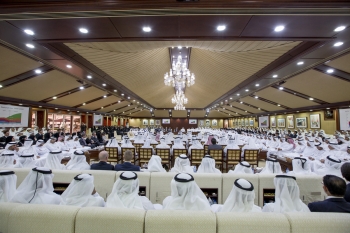 Deputy Secretary Daniel Poneman recently traveled to Abu Dhabi, UAE, to join Energy Minister Suhail Al Mazrouei in launching the U.S.-UAE Strategic Energy Dialogue on June 23. This day-long exchange addressed a wide array of subjects, including oil and gas production and related market developments, clean energy deployment and energy efficiency, carbon capture, utilization, and sequestration, and civil nuclear cooperation. The parties discussed the importance of keeping oil markets well supplied at prices that are consistent with global economic growth. They also discussed climate change and reaffirmed their commitment to the Clean Energy Ministerial and the Carbon Sequestration and Leadership Forum (CSLF).
Following the Strategic Energy Dialogue, Deputy Secretary Poneman met with Mohamed Al Hammadi, CEO of Emirates Nuclear Energy Corporation (ENEC), to review progress on the project to build four reactors at the Al Barakah site. The UAE has made impressive progress in establishing a civilian nuclear program committed to world-class safety and security standards.
The delegations discussed their respective efforts in promoting the deployment of clean energy technologies, including the UAE's Masdar Initiative, which has become a leader in growing sustainable energy solutions, as well as the U.S. Loan Guarantee Program, which has underwritten a new generation of grid-scale wind, solar photovoltaic, and concentrated solar power plants in the United States.
Deputy Secretary Poneman and Minister Al Mazrouei agreed to target three areas for specific follow-up to their dialogue. First, they agreed to address the development of an integrated energy policy, informed by current efforts in UAE to develop a national energy strategy and in the US to carry out the presidentially-chartered Quadrennial Energy Review.
Second, they agreed to share the results and consider the implications of their respective efforts to deepen understanding of the extensive energy-water nexus, to develop policies and practices that promote the long-term best use of natural resources for the welfare of their people and protection of the planet.
Third, both sides agreed to share information on the use of appliance efficiency standards in promoting efficiency and reducing energy demand.  
While in Abu Dhabi, Deputy Secretary Poneman also met with senior government officials and energy executives to discuss their views on global and regional developments.
Following these discussions, the Deputy Secretary spoke at a majlis hosted by the Abu Dhabi Crown Prince's Court.  The majlis was hosted by the Deputy Prime Minister and Minister of Interior, H.H. Lt. Gen. Sheikh Saif Bin Zayed Al Nahyan, and moderated by Dr. Thani Ahmed Al Zeyoudi, UAE's Permanent Representative to the International Renewable Energy Agency (IRENA). The majlis provided an opportunity for the Deputy Secretary to describe the transformation the United States has experienced in its energy sector in recent years.
The Deputy Secretary noted that both the United States and UAE have viewed their hydrocarbon resources not only as a source of prosperity for their people, but also as providing the resources to build a bridge to a low-carbon future.  He also described the common views of geostrategic, energy and environmental challenges that the United States and UAE share.
Deputy Secretary Poneman added that both countries have a shared interest in preserving the growth and stability of the world economy and energy markets. Finally, the Deputy Secretary addressed areas for further cooperation between the United States and UAE, including expanding research into energy innovation and improved access to clean energy finance.
The inauguration of the U.S.-UAE Strategic Energy Dialogue reflects the wider set of strengthening relations between the two countries and provides a practical mechanism to enhance cooperation on a wide variety of energy matters.