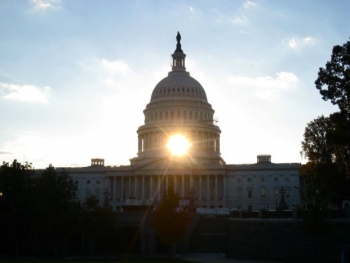 Sun Shines through the Capitol Building | Credit: GC Photographer Daniel Zazueta
The Office of the General Counsel is proud to provide the public with access to its governmental processes and information. On January 21, 2009, President Barack Obama issued a Memorandum on Transparency and Open Government, where he pledged, "My Administration is committed to creating an unprecedented level of openness in Government. We will work together to ensure the public trust and establish a system of transparency, public participation, and collaboration. Openness will strengthen our democracy and promote efficiency and effectiveness in Government." The Department of Energy has taken additional steps to implement these principles of transparency, public participation, and collaboration. Three ways in which the Office of the General Counsel fulfills these principles are through:
Ex Parte Communication Guidance
The ex parte communication guidance governs the manner in which interested parties may communicate with the Department of Energy during its informal rulemaking proceedings, termed ''permit-but disclose'' proceedings for purposes of this guidance. It is designed to encourage additional public participation in the rulemaking process, while ensuring that all such participation is open and transparent. Permit-but-disclose proceedings are comprised of: (i) Proceedings in response to petitions for rulemaking; (ii) informal rulemaking proceedings upon release of an advanced notice of proposed rulemaking, a notice of public meeting or, if neither of those documents is utilized, the notice of proposed rulemaking; and (iii) proceedings involving an interim final rule.
Public Participation in DOE Proceedings
The Office of the General Counsel plays a key role in all rulemaking and other public proceedings conducted by DOE.  Robust public participation is essential to the rulemaking process. This participation provides DOE the benefit of the expertise from those who will be most affected by DOE's proposed actions. It also offers the public a transparent, hands-on way of having its voice heard in the administrative process.
Retrospective Regulatory Review
The Office of the General Counsel continues to review existing regulations to determine whether they are necessary and effectively crafted to solve current problems. In an effort to enhance collaboration efforts, the Office of General Counsel is dedicated to including proposed changes to internal management and administrative policies to improve partnerships and cooperation within the federal government, across levels of government, and between the government and private institutions.