A great invention that sits on a shelf, gathering dust, benefits no one. That's the idea behind the Federal Laboratory Consortium (FLC), a nationwide network of federal laboratories that provides a forum to turn laboratory innovations into commercial products. Organized in 1974, and formally chartered by the Federal Technology Transfer Act of 1986, the FLC now comprises approximately 300 federal laboratories and centers, along with their parent departments and agencies.
One of the FLC's many activities is to recognize excellence in technology development and transfer. This fall, a total of three technologies developed at the National Energy Technology Laboratory (NETL) will be honored by two of the FLC's six regional divisions. At a joint meeting of the FLC Far West and Mid-Continent Regions, held this month, two NETL technologies were recognized by the Far West Region for Outstanding Technology Development: an approach to produce more stable alloys for use in advanced power-generation systems, and a method to reduce defects during the production of specialty metals. This November, the FLC Mid-Atlantic Region will bestow an award for Excellence in Technology Transfer upon an NETL-developed immersive training system for power plant operators.
The award-winning technologies, described below, illustrate the breadth and depth of research conducted by NETL's scientists and engineers as they carry out NETL's mission to advance energy options to fuel our economy, strengthen national security, and improve the environment.
3D Virtual Energy Plant Simulator and Immersive Training System
Mid-Atlantic Region Award for Excellence in Technology Transfer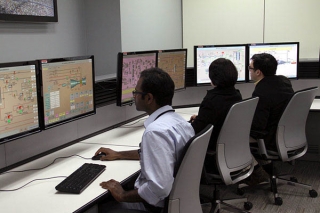 The 3D Virtual Energy Plant Simulator and Immersive Training System deployed at NETL's Advanced Virtual Energy Simulation Training and Research (AVESTAR®) Center delivers the first virtual energy plant for training, research, and development. NETL and its training partners are using the system to deliver realistic, cost-effective, and low-risk workforce training to the energy industry. Virtual reality–based training helps operators increase their process knowledge and confidence, so they can bring plants online faster, reduce shutdowns and downtime, and reduce the risk and cost of equipment damage. The 3D virtual energy plant simulator is available to third parties for internal training purposes at their campuses.
Several partners are working with NETL to make the system available to a wider audience. NETL has agreements with West Virginia University for engineering students and researchers and with Pierpont Community & Technical College for students enrolled in their power plant certificate program, sponsored by FirstEnergy Corporation. NETL is also transferring the technology to partners in its Regional University Alliance, an applied research collaboration that comprises five nationally recognized, regional universities. A license agreement is being negotiated between NETL and Invensys Operations Management that would allow Invensys to market and sell the NETL technology as a generic virtual energy plant simulator and to use it as the basis for developing customized, plant-specific immersive training solutions for the energy industry, academia, and national laboratories.
Superior Heat Resistant Alloys through Controlled Homogenization
Far West Region Award for Outstanding Technology Development
Heat-resistant alloys used in the energy industry contain a variety of elements that are hard to control during metal working. As a result, metal workers typically use trial and error to disperse these elements uniformly throughout the ingot during heat treatment. As more of these elements have been incorporated into the alloys, traditional methods of homogenization are no longer appropriate, but without uniform dispersion in the ingot, the microstructure becomes unstable for long-term, high-temperature performance.
To solve this problem, NETL has developed a computational algorithm to design a customized homogenization schedule for a given alloy. The algorithm estimates the microstructure to develop simulations of what occurs in the alloy during heat treatment. The simulations allow staff to calculate the incipient melt temperature and adjust the treatment temperature accordingly. This approach significantly reduces the time required for alloy development by removing the trial and error aspect of the melting process, resulting in optimized homogenization temperature and heat treatment schedules. When applied to current manufacturing processes, this new approach will allow for efficient and cost-effective development of heat-resistant alloys for use in conventional coal-fired and advanced power generation systems, leading to more efficient and environmentally responsible electricity production.
Arc Position Sensing Technology
Far West Region Award for Outstanding Technology Development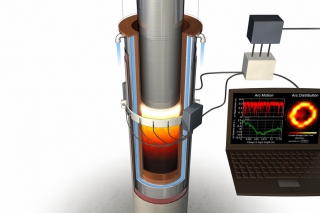 Vacuum arc remelting is the primary method for melting and refining specialty metals for aerospace and other advanced applications. Defects in the ingots produced using vacuum arc remelting — often caused by solidification problems due to operational characteristics — can cause catastrophic failure in their end use. Previously, operating deleterious conditions could not be identified during furnace operations, so ingot manufacturers had to perform extensive and costly testing on all ingots after they were melted and withdrawn from the furnace.
NETL's arc position sensing technology allows operators to digitally monitor arc location during melting, identifying deleterious operating conditions quickly and avoiding conditions that may lead to defect formation. Viewing electric arcs with arc position sensing technology provides quality control that is critical for safety and reduction of defects, and it could also lead to the production of materials with stronger chemical and mechanical homogeneity. This technology helps increase yield in the specialty metals and alloys used in aerospace, chemical, energy, food processing, marine, medical, military, and other industries.