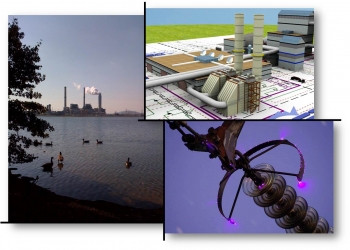 Do you care about power and our environment?  Are you buzzing with innovative ideas? If so, the Energy Department wants to hear your new and creative concepts for improving the cost and performance of power or industrial systems that depend on fossil energy.
Please note that this is a request for information (RFI) only; it is NOT a request for proposals. Your response may be used to guide the planned funding opportunity announcement (FOA) that will be issued at a later date by the National Energy Technology Laboratory on behalf of the U.S. Department of Energy's Office of Fossil Energy.
In this RFI, we seek ideas and concepts that have great potential to —
• Maximize fuel and system efficiencies (such as improved recovery and use of waste heat), and improve the cost-competitiveness of plants that use fossil fuels.
• Reduce emissions of carbon dioxide and other flue gas components.
• Integrate multiple advanced energy conversion and/or power systems in a way that leads to greater overall system efficiency and environmental performance.
• Improve sensors, controls, materials, coatings, and computer modeling to support advanced energy systems that will serve rapidly changing demand in plant production levels.
The planned FOA, which is subject to fiscal year 2014 funding, will include competitively awarded financial assistance for projects that show promise of substantial improvement to fossil energy-based power and industrial systems.
Replies to this RFI are due January 15, 2014, by 8:00 p.m. EST. Details about how and where to submit your ideas — and additional information about the expected FOA — can be found here.