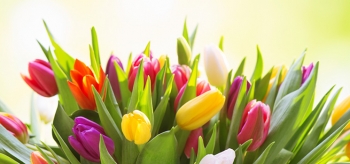 Delivering flowers is one of many ways to brighten your mom's day next weekend. | Photo courtesy of ©iStockphoto.com/Moncherie
Mother's Day is just around the corner and there are more gifts than flowers and home-made cards to pass around this spring.  In fact, after you finish eating mom's famous homemade cookies, you better not forget to clean her gutters, sweep the porch, and mow the lawn.
But that's not all; thankfully we've compiled a plethora of energy saving and conservation-friendly gift ideas for the wonderful woman who brought you into this world below.
Install Her Window Air Conditioner
The States are getting warm and your century-old childhood home lacks central air conditioning. So save mom's back a break by installing her window air conditioner when you're over. And don't forget to clean the filter for easy breathing. In addition, be sure to show her how to use the timer settings to keep the appliance running as efficiently as possible. Remember, air conditioners and fans cool people, not rooms.
For more information and tips on installing high efficiency window air conditioners properly, please see EERE's Building Technologies Office fact sheet.
You can learn more about operating and maintaining your air conditioner, evaporative cooler, or heat pump from Energy Saver. For room air conditioners, check out these efficiency tips.
Change Mom's Light Bulbs
What's a better way to show your mother love than with savings on energy costs? Perhaps the easiest and most expensive fix for annual electricity costs is as easy as changing a light bulb. Swapping out costly and inefficient incandescent light bulbs in the home for CFL or LED bulbs can save as much as 75-80% a year on lighting costs. In addition, they can last 10-20 times longer than traditional incandescent light bulbs. Replacing 15 inefficient incandescent bulbs in your home with energy-saving bulbs could save you about $50 per year. For the greatest savings, replace your old incandescent bulbs with ENERGY STAR-qualified bulbs.
For more information on improving your home's lighting, please see our Lighting Tips page.
Plant a Tree
What's tall, green, made of wood, and can save energy for your mother over time? (Hint: read above) Believe it or not, a little landscaping duty can save a home energy costs in the long run by adding shade. Get creative and plant your mom a tree for this Mother's Day and in five years she could be shading her home in no time, saving cooling costs during the summer months. Learn more about energy-efficient landscaping.