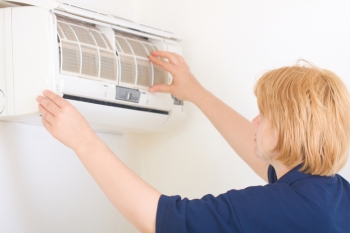 Maintaining your air conditioner is just one way to fulfill an energy independence pledge this summer. | Photo courtesy of ©iStockphoto/firemanYU
The Fourth of July reminds me of hot summer days with the air conditioning on, barbecues with friends, and fireworks – not the most energy efficient time of the year for most of us. It is also, of course, the day when our nation celebrates its proverbial birthday and its independence. The celebrations for this year's Fourth of July have passed, but by making a few energy conscious choices today, or resolutions for the future, you can work to reduce your own energy footprint and help our country take another step toward energy independence. Here are some ways to get cracking.
Maintaining your air conditioning and other home cooling systems and making sure your home's air seal and insulation are effective will save you a bundle over the long haul. Do-it-yourselfers will find great tips and other resources to get started detecting air leaks, improving window treatments, and more on our Energy Saver site. 
Our Energy Saver blog also features many articles to help you and your family take easy steps now and plan bigger steps that will help you cut your energy bills. Three recent blog posts on energy-saving outdoor lighting, summertime savings tips, and saving energy on vacation offer our readers some great starting points. 
After making lower-cost energy efficiency improvements, another way you can make a giant leap toward energy independence is to install a renewable energy system on your home to augment the electricity you use from your utility. A small solar or wind energy system can slash your energy bill and pay for itself over time. Our Energy Saver site can help you plan for a home renewable energy system and explore your options with home wind, solar and hydropower energy systems. Federal tax credits are available for many residential systems, and some states and municipalities offer additional incentives.
This summer, I hope you'll continue to celebrate our nation with an energy-efficient bang by making a pledge – and then taking action – to save more energy this year.