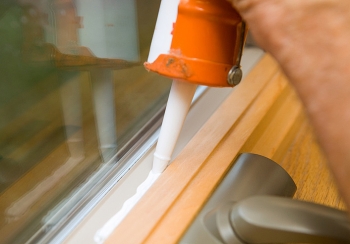 Caulking can reduce heating and cooling costs and improve comfort in your home.
The same things that keep your house warm in the winter can keep your house cool in the summer. And one of the best times to work on that is spring, when it isn't cripplingly cold or smotheringly hot. This might be a good season to think about whether your house has air leaks you can fix. 
Air leaks cause all sorts of issues. They let in cold air when it's cold and hot air when it's hot, which makes it harder for you to keep your home comfortable. Like the natural ventilation section on Energy Saver's Ventilation article explains, cracks and leaky windows aren't a good way to get air moving in and out of your home because it doesn't provide uniform and predictable ventilation.
So once you have a little time (and the weather's looking a little better), check the air sealing article to see how you can better control the ventilation in your home. Even things as simple as caulking and weatherstripping could make a big difference once the cold's finally gone… and you prepare for the hot weather to roll in instead.