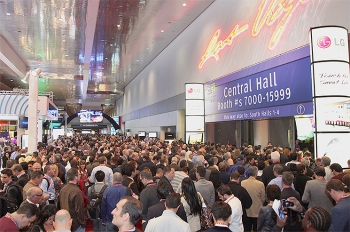 Excited attendees flood into the Central Hall exhibits to see the latest and greatest in technology at the 2013 International CES. | 2013 International CES
Energy savings aren't all about efficient heating and cooling these days. In fact, much of it goes into electronics, including your Energy Star-rated televisions and Blu-Ray players. So we at Energy.gov have decided to highlight some of the newest and trendiest energy-conscious gadgets shown at the Consumer Electronics Show (CES 2013) in Las Vegas last week. All of the products listed here won awards at CES 2013 for Eco-Design and Sustainable Technologies.
At the top of our list, Samsung made its sustainability known this year by bringing gadgets with processors 70% more efficient than previous designs. The Octa processor for tablets and smartphones was noted by Samsung's CEO Stephen Woo to be more powerful without sacrificing efficiency. Samsung also won four awards in the Eco-Design and Sustainable Technologies category for products that included  an inkjet printer and a 57-watt equivalent LED bulb. The bulb, like many other LEDs (including the L-Prize bulb), can save 75-80% of the energy used by incandescent light bulbs.
Another favorite at CES 2013 was the Bracketron's Mushroom GreenZero Wall Travel Charger. The portable outlet charger allows you to portably charge your gadgets while remaining eco-friendly. Mushroom GreenZero stops using wall electricity once your battery reaches a full charge. The device includes a USB port on the back for use with any USB-compatible charging cord as well as a green plastic cord winder (the mushroom top) for a tangle-free experience on the go.
Many computer users probably don't see the light of day until 5 p.m., but if they had Logitech's new Wireless Solar Keyboard, they would definitely have incentive. The solar panel-hitched keyboard can recharge its battery right through your window.
Of course, CES 2013 would be nothing without the HD televisions, and this year manufacturers did not disappoint in energy efficiency. LG has updated their LED Cinema 3D Smart TV. The 55" television aimed at cinema lovers (lights off) was designed sustainably using recyclable materials for its parts and uses Dynamic Energy Saving technology to keep the watts to a minimum.
Techies can always find something interesting at CES, but you don't need to be on the cutting edge to find ways to save energy. Even if these new gadgets haven't yet made their way to your shopping list, you can save with the appliances and electronics you already own; visit Energy Saver to learn more about saving electricity.