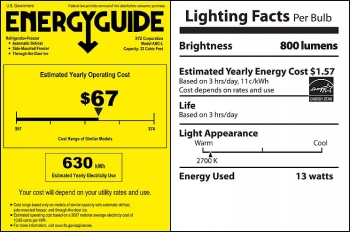 The EnergyGuide and Lighting Facts labels help you understand both the purchase price and the operating cost when shopping for new appliances or lighting.
In my house, we love to comparison shop. Before any major purchase, we spend a lot of time researching our options. We read reviews, compare specs, hunt for the best prices, and consider the long-term costs. The wealth of resources available online makes most of this very easy.
One thing that hasn't always been so easy, though, is comparing energy use and costs. Energy costs of course play into our long-term cost comparisons (along with maintenance), and while there have always been ways to estimate annual energy use of appliances or electronics, going through this exercise with every product we want to compare isn't very convenient. Instead of just comparing online, we had to go actually go into a store that carried the product so we could see the EnergyGuide labels. If one store didn't carry all of the products we wanted to compare, we had to go to multiple stores. And if the product was only online… well, sometimes we just forgot about the energy comparison altogether, or we did it ourselves using the methods in the link above. All very inconvenient and time consuming.
Luckily, this whole process is about to get easier. An updated rule from the Federal Trade Commission called the Energy Labeling Rule (changed from the Appliance Labeling Rule) now requires online sellers to post the labels for any products that have an EnergyGuide or Lighting Facts label. Manufacturers are also required to post the labels online.
That's right: now you'll be able the better estimate the real costs of those purchases, without having to set foot in a store. For those of you who obsessively comparison shop like our family does, that means shopping for appliances, electronics, and lighting just got a whole lot easier!