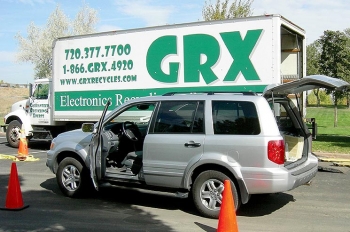 Recycling your old electronics is easy and good for the environment. | Photo by Nicki Johnson, NREL 15669.
We all know recycling isn't necessarily a new idea for being energy conscious, but it's important to remember just how useful and easy it actually is. We explore a myriad of different energy saving tips every day on this blog, and this is just another you can really reuse in your daily lives. 
Like many people, my New Year's resolution was to get more organized in my home. In doing so, I've already uncovered (quite literally) a few items that I didn't realize were recyclable until I did a little research.  Why not take the time to think about how one man's newspaper is another man's…egg carton?
To clear away some accumulation, I started with my vast CD and DVD collection, which over time I've developed a digital database for. Even though the artwork will be missed, the discs and cases can be easily processed and used again in the automotive or business industries.
If you need more of a reason than that, think about the environmental benefits of keeping these items from an incinerator (since they cannot decompose naturally in a landfill). This will prevent harmful fume emissions from entering the air we breathe. It's not difficult to find a service you can ship CDs and DVDs to for recycling. You're probably not going to make large profit off of these items if you sell them online anyway.
Another pile of stuff useless to me was old computer and cell phone chargers, adapters, power cords, etc. Instead of throwing them away - which may lead to harmful elements like lead or mercury ending up in the air - think about donating these items to a charity that will recycle them for free, or for a small fee. Many cities also have a tech trash drop-off or curbside service to assist. As you replace appliances, electronics, and lighting with more energy efficient products, remember to think about where those old products will go!
Just taking these small actions not only got me organized, it reminded me to think about all the ways to truly give back to the earth and support clean energy consciousness through good habits, like recycling.