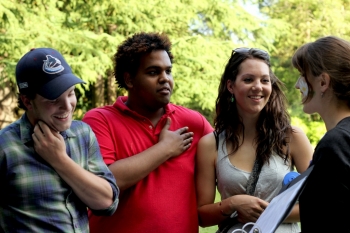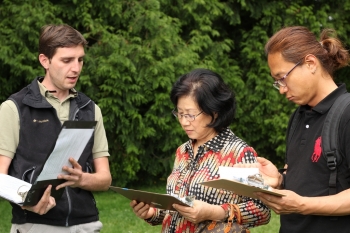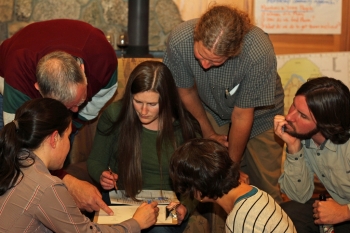 Overview
The success of EM's legacy waste cleanup mission depends largely on the support of informed and engaged stakeholders.  Cleanup activities have the potential to affect the health of the public, the environment, and the future of the communities that either host or are located near EM sites.  Therefore, it is critical that EM receive public input from local citizens and community organizations prior to making cleanup decisions.
In December 2010, EM partnered with the New Mexico Community Foundation (NMCF) to establish the Community Involvement Fund (CIF), which distributes monies to community-based groups near EM sites across the country.  The purpose of the CIF is to increase and improve the quality of public participation in environmental cleanup efforts at nuclear waste sites nationwide.
Since its establishment, the CIF has distributed more than $1 million in grants to qualified nonprofit organizations nationwide that represent communities and residents who are most likely to be affected by EM's environmental cleanup activities.
Goals
When stakeholders become involved in the environmental decision-making process, the cleanup activities at federal facilities benefit.  Informed public input can improve cleanup decisions by ensuring that local conditions are better understood and incorporated into cleanup strategies that reflect local community values.
The goals of the CIF are to:
Increase public involvement at DOE sites and in the environmental management decision-making process;  Examples include:

Provide input on annual funding and budget priorities
Provide input on cleanup standards and goals
Weigh in on alternative cleanup proposals, reasonable maximum exposure scenarios, and local community expectations for future use of the land and/or natural resources impacted by cleanup activities
Provide input to approaches that minimize adverse socioeconomic impacts and maximize positive impacts associated with cleanup
Provide input on planned institutional controls or engineering controls for remediation or legacy management

Assist stakeholder groups with analyzing environmental management plans and proposals, including building an understanding of cleanup models and data, as well as alternatives for cleanup;
Increase public awareness of the impact of contaminant releases or potential releases into the environment during the cleanup process, as well as understanding of how priorities are established for cleanup and safety purposes; 
Build long-term regional and national support for a successful cleanup program that is responsive to public input and engages a broad cross section of stakeholders;
Provide opportunity for community groups to propose alternative plans that may achieve better cleanup results or better protection of public priorities; and
Provide accountability and transparency for EM and its cleanup activities.
CIF Projects
Notable examples of projects that have resulted from CIF grants include:
The Alliance for Nuclear Accountability created a Community Guide: Improving the Links between Future Land-Use and Cleanup Decisions. This guide includes an overview of how EM links cleanup decisions with community processes for future land-use; discussion of opportunities and challenges with these decisions; talking points and questions about cleanup and future use; and examples of best practices.
The Hanford Challenge hosted its second Forum for Shared Conversation about Challenging Issues at Hanford from May 22-24, 2011, as well as a youth-focused forum with mentors and mentees to learn about Hanford issues, build relationships and strategize ways to increase public participation in the younger demographic.
Heart of America Northwest mailed Citizen's Guides with information on Hanford cleanup issues to over 20,000 households.
The Native Community Action Council in Nevada educated trainers in outreach, education, and communication strategies and objectives of their Tribal Community Enrichment Project (TCEP)