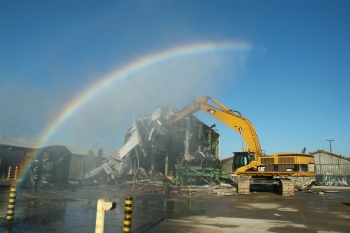 A rainbow appears over the Paducah Site's East End Smelter, a 21,000-square-foot complex used until the 1980s to smelt metal. Recovery Act workers used heavy equipment to demolish the smelter in September 2010, a year ahead of schedule and $10 million under budget.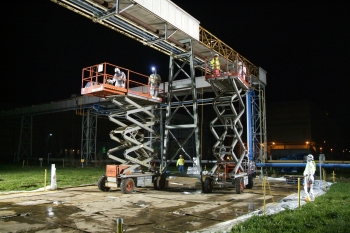 Second-shift Recovery Act workers at the Paducah Site use scissor lifts and metal saws to remove the outer cover of old uranium hexafluoride process tie lines linking C-410 with other parts of the Paducah Gaseous Diffusion Plant.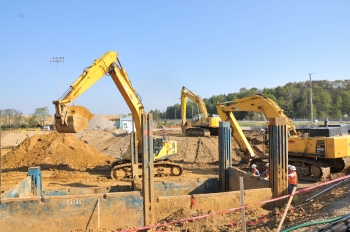 Recovery Act workers have reduced contaminant levels by 96 percent in soil 30 feet below ground in what has been coined the Portsmouth Gaseous Diffusion Plant's "Big Dig." In the $34 million Recovery Act project, workers are excavating a 70,000-square-foot area of soil with a high concentration of trichloroethene (TCE) under a now-defunct holding pond. The chemical compound was used as an industrial solvent at the plant, which enriched uranium for defense and commercial nuclear purposes until production ended in 2001.

The last seven 120-foot tall towers are dropped all at once at the X-533 Electrical Switchyard in late September 2010.
OVERVIEW
U.S. Department of Energy (DOE) established the Portsmouth/Paducah Project Office (PPPO) on October 1, 2003, to provide focused leadership to the Environmental Management missions at the Portsmouth, Ohio and Paducah, Kentucky Gaseous Diffusion Plants as well as the Depleted Uranium Hexafluoride (DUF6) project.
The Lexington, Kentucky Office opened in January 2004, and is located mid-way between the Kentucky and Ohio facilities. This centralized location allows  the DOE Lexington Office Manager frequent and routine site interactions at both the Portsmouth and Paducah Sites operations. Additionally, DOE maintains a strong presence at the sites on a daily basis through the Portsmouth and Paducah Operations Oversight Groups. The PPPO goal is to accelerate the site cleanup at the Portsmouth and Paducah Gaseous Diffusion Plants, eliminating potential environmental threats, reducing the DOE footprint at each of the sites, and reducing life-cycle cost.
Portsmouth
The Portsmouth Gaseous Diffusion Plant (PORTS) is located in Pike County, Ohio, in southern central Ohio approximately 20 miles north of the city of Portsmouth, Ohio. PORTS was one of three large gaseous diffusion plants initially constructed to produce enriched uranium to support the nation's nuclear weapons program and later enriched uranium used by commercial nuclear reactors. The plant occupies about 1,200 acres of a 3,714-acre site.
Decades of uranium enrichment and support activities required the use of a number of typical and special industrial chemicals and materials. Plant operations generated hazardous, radioactive, mixed (both hazardous and radioactive), and nonchemical (sanitary) wastes. Past operations also resulted in soil, groundwater, and surface water contamination at several sites located within plant boundaries.
Today, multiple missions are taking place at the site including decontamination and decommissioning (D&D) of inactive and unneeded facilities, environmental remediation, depleted uranium hexafluoride conversion (DUF6), as well as uranium enrichment activities through USEC Inc.'s American Centrifuge Plant (ACP).
Paducah
The U.S. Department of Energy's Paducah Site consists of 3,556 acres in McCracken County in far western Kentucky. The reservation is part of a 16,126-acre tract assembled during World War II to build Kentucky Ordnance Works, a trinitrotoluene (TNT) facility. The Paducah Gaseous Diffusion Plant (PGDP), within about a 650-acre fenced security area, opened on the site in 1952. PGDP played a vital role in the production of enriched uranium during the Cold War and today is the nation's sole remaining gaseous diffusion plant, producing enriched uranium for use in nuclear fuel.
The Paducah Site has been on the National Priorities List since 1994. Strategic cleanup initiatives are broken into the areas of groundwater, surface water, soils, burial grounds, and excess inactive facilities. The initiatives include a series of prioritized response actions, ongoing site characterizations to support future response action decisions, and decontamination and decommissioning of PGDP once it ceases operation. Every day, the EM organization works aggressively to improve the Paducah Site environment, understanding the safety and future of the site hinges on its accomplishments.  
DUF6
The mission of the DUF6 Project is to design, construct and operate facilities to safely convert DUF6 into a more stable chemical form (oxide) for beneficial reuse or disposal which reduces the immediate and future risk to workers and surrounding communities. DUF6 Conversion facilities are located at the Paducah Gaseous Diffusion Plant near Paducah, KY and the Portsmouth Gaseous Diffusion Plant near Piketon, Ohio. 
PORTSMOUTH, OH
More than five decades of uranium enrichment operations at the former Portsmouth Gaseous Diffusion Plant has generated millions of cubic yards of waste and resulted in soil, groundwater, and surface water contamination within the plant's 3,714-acre boundary.
DOE and its D&D contractor are performing environmental cleanup of the plant to remove contamination so the land can be used for new purposes by DOE or the community. Nearly 2,000 workers are part of this massive undertaking that will take over a decade to complete.  
Three major projects encompass the majority of the site's cleanup mission:
Environmental Remediation
DOE is performing cleanup of groundwater plumes contaminated primarily with the degreasing solvent trichloroethylene (TCE), which was used during production years to clean process equipment used to enrich uranium.  Five areas (plumes) of groundwater affected by degreasing solvent (TCE) are currently being managed by pump and treat, oxidant injection and a slurry wall technology.
DOE will also be remediating soil contaminated by uranium enrichment operations at PORTS.  Soil at the site may be contaminated by TCE degreasing solvent, radionuclides, heavy metals and polychlorinated biphenyls.
Decontamination & Decommissioning
DOE is responsible for the decontamination and decommissioning (D&D) of 415 facilities and structures that supported uranium enrichment operations at the Portsmouth Gaseous Diffusion Plant for more than 50 years.
The 3,714-acre plant is DOE's largest facility under roof, with three large process buildings that house the gaseous diffusion process equipment and span the size of 158 football fields. The plant also includes various support structures that provide feed and transfer operations and site services such as maintenance, steam generation, cleaning, process heat removal, electrical power distribution, and water supply, storage and distribution.
During D&D, contaminated facilities will be prepared for demolition by deactivating utilities and removing stored waste, materials, process equipment such as converters and compressors, and piping. These activities will eliminate groundwater contamination sources, improve worker safety, and reduce surveillance and maintenance costs.
DOE manages the safe disposition of waste generated during the plant's uranium enrichment operations as well as building debris, contaminated soil, and other materials generated during the D&D and environmental cleanup of 415 facilities and structures at the Portsmouth plant.
The plant's waste streams include solid and liquid radioactive materials; hazardous wastes such as toxic, corrosive, reactive or ignitable materials; mixed waste, which contains both hazardous and radioactive components; and sanitary waste.
PADUCAH, KY
Water Policy
When groundwater contaminated with the degreaser trichloroethene (TCE) and the uranium by-product Technetium-99 (Tc-99) was discovered off the plant site in 1988, DOE responded by providing temporary water supplies to residents potentially affected by the discovery. They had used groundwater wells for drinking, cooking, and irrigating crops. To protect the public, DOE created the Water Policy, extending municipal water lines at no cost to people whose wells could be affected by plumes of contaminated groundwater. The Department agreed to pay the reasonable monthly cost for homes and businesses and, in exchange, the landowners pledged to cease using the groundwater. Currently about 100 homes and businesses are included in the Water Policy Area, and DOE pays the cost of municipal water for those residents. This policy ensures that the public does not come into contact with contaminated groundwater.
C-400 Interim Remedial Action
Past releases of TCE at the C-400 Cleaning Building are the major sources of groundwater contamination at the Paducah Site. In 2010, an electrical resistance heating (ERH) system treated more than 4 million gallons of groundwater and recovered 580 gallons of TCE southwest and east of the cleaning building. The system was effective 20-60 feet below ground but did not heat well enough to remove the degreaser from the aquifer 60-100 feet deep. ERH will be used again in 2013 to vaporize TCE 20-60 feet below ground southeast of the cleaning building so that it can be pumped to the surface and treated. Discussions continue with regulators as to the type of system needed to treat TCE in the deeper aquifer, with field work anticipated to start in 2014.
Pump and Treat
Pump and treat systems northwest and northeast of the fenced area of the site have treated about 3 billion gallons of contaminated groundwater and removed more than 3,300 gallons of TCE since they began operating in 1995 and 1997, respectively. DOE installed two new extraction wells in 2010 to substantially improve the mass removal of TCE in the northwest area. A similar system is planned for the northeast area in 2014. Optimizing the existing pump and treat systems, which control the migration of off-site groundwater contamination, is expected to result in the continued dissipation of the contamination through 2020 and beyond. 
Excess Facilities Removal
C-340 Demolition
Removal of the C-340 Metals Plant, the first major uranium processing facility to undergo full-scale demolition at the site, is scheduled to be completed in early 2013. The 65,000-square-foot facility made uranium metal and operated from 1956 until the mid-1980s. Accelerated cleanup of radioactive contamination and hazardous materials under the American Recovery and Reinvestment Act (ARRA) allowed for removal of more than 100,000 cubic feet of systems waste. The Metals Plant was declared demolition-ready in early August 2011, avoiding $2.5 million in inflationary costs by being cleaned up five years ahead of schedule. The demolition phase involves removal of more than 2,000 heavy panels of cement-asbestos siding, disposition of PCB waste, and tearing down three major sections, one 120 feet high.
C-410 Demolition
The C-410 Feed Plant, which operated from 1957 to 1977 to produce uranium hexafluoride (UF6) and fluorine, is slated to be finally cleaned up and razed to slab in 2013. As of late 2012, crews had removed more than 5 miles of UF6 process piping and 15 cold traps used to freeze and trap the UF6, then heat it to a liquid and drain it to transport cylinders for use in the cascade buildings. Some of the cold traps weigh up to 12,000 pounds. Ongoing  work also included removal of enough asbestos material to fill two railroad boxcars.
The Feed Plant originally spanned nearly 200,000 square feet and encompassed nine facilities. Cleanup was accelerated under ARRA and involved extensive recycling of copper bus bars and fluorine-generation cells. Heavy equipment demolished the half-acre eastern third of the Feed Plant in late June 2011.
DUF6
Status
Physical construction of the facilities was completed in 2008 followed by initial system testing. Approval to begin plant operations was granted to both sites in 2010. In December 2010, DOE awarded Babcock & Wilcox Conversion Services, LLC a contract to operate the DUF6 Conversion Plants for five years. Each plant is currently conducting operations to confirm the conversion capacity of each facility. 
Over 6,000 metric tons of DUF6 was converted to oxide in FY 2012. Aqueous hydrofluoric acid is a valuable co-product of the conversion process. Over 1 million gallons of the acid has been produced and sold for commercial applications. Both plants are expected to begin full scale steady state operations in fall 2013.
Other links that may help: