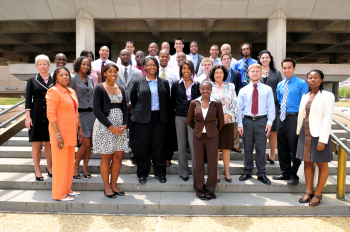 MEISPP Interns at the Department of Energy Headquarters
Come Work for Us!
Paid Summer Internships for College Students
Cultivating workplace diversity is a valued aspect of our work at the Department.
Opportunities for undergraduate and graduate students pursuing degrees in a variety of academic disciplines, particularly for those in engineering, science, business, and social sciences are available with the Office of Environmental Management (EM) through the Department of Energy's Minority Educational Institution Student Partnership Program (MEISPP).  We invite you to come work for EM, an office with a unique and complex mission that has its roots in the historic Manhattan Project and is responsible for the world's largest nuclear cleanup program.
This paid 10­-week summer MEISPP internship, which includes housing, airfare, and a stipend, is coordinated by DOE's Office of Economic Impact and Diversity, and offers qualified students, the opportunity to work with and be mentored by scientists, engineers, and other technical experts and professionals in the Department.  We have hosted MEISSP interns throughout the EM complex at various sites to include, among others, Tennessee, South Carolina, Washington, Ohio, Maryland, and EM Headquarters in Washington, D.C. 
Interested students can learn more and apply for the MEISPP program by visiting https://www.doemeispp.org//