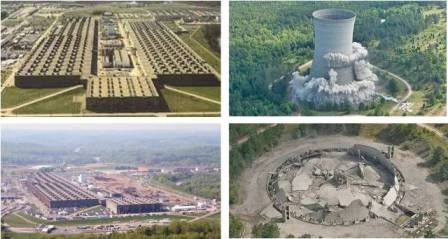 Above on the left is K-25, at Oak Ridge before and after the 844,000 sq-ft demolition. In addition, on the right: K Cooling Tower at Savannah River Site demolition.
The "D&D Program Map" presents an integrated overview of DOE's complex-wide D&D project locations, scope, and issues and includes information on:
• The affects of the AMERICAN Recovery and Reinvestment Act of 2009 (ARRA) and Facility Transfers on EM D&D Program
• ARRA D&D Scope
• Facilities to be transferred to EM for D&D
• D&D Projects Locations
• D&D Budget Profile
• Challenges and Cost Drivers
• Typical Phases of D&D
• The 25 most significant ("Top") D&D Projects (Based on Cost)
• Assumptions (Data Sources and Programmatic Assumptions)
• Major D&D Accomplishments
The maps are periodically reviewed using an analytical building block hierarchy of the D&D projects with updates posted on this website.
The American Recovery and Reinvestment Act of 2009 (ARRA) was passed by the 111th Congress and signed into law by the President on February 17, 2009.
The Office of Environmental Management's (EM) overall goals for ARRA were to implement "shovel-ready" projects that:
• Reduce the EM legacy footprint;
• Create or maintain jobs;
• Reduce life-cycle costs for the cleanup of the Cold War environmental legacy;
• Accelerate disposition of transuranic and low-level radioactive wastes;
• Promote contracting opportunities for small businesses; and,
• Protect the environment and reduce the overall risk to the public.