Melody C. Bell - Acting Deputy Assistant Secretary for Human Capital and Corporate Services, Office of Environmental Management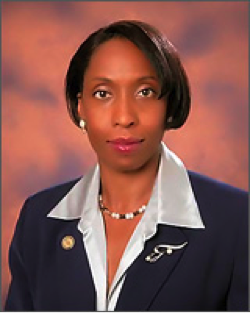 Ms. Melody Bell provides strategic leadership and direction to EM's mission-enabling activities. In this role, as well as in the role of Associate Deputy Assistant Secretary which she has held since 2012, Ms. Bell oversees human capital, information technology, and business services operations. She is a career member of the U.S. Senior Executive Service with more than 20 years of leadership experience building high-performing organizations in both the private and public sectors. 
In 2011, Ms. Bell was appointed as the Senior Advisor to the Associate Deputy Secretary, a position established under former Energy Secretary Steven Chu to ensure efficient and effective mission execution across the DOE enterprise. In 2009, she served as the Deputy Assistant Secretary for Business Administration and the Director of Program Execution Support in DOE's Office of Energy Efficiency and Renewable Energy, where she was responsible for budget implementation and workforce alignment to achieve corporate programmatic needs.
Prior to that, Ms. Bell was the Deputy Director of the Office of Transformation for the National Nuclear Security Administration, where she assessed and developed policy to enhance and improve effectiveness, utility, and efficiency of the DOE complex. During that time, she also provided strategic advisory services to DOE's Office of the Chief Human Capital Officer regarding all aspects of workforce management.
In 1992, Ms. Bell started her tenure at DOE, working as a certified Project Management  Professional in the Rocky Flats Office as the Team Lead and Contracting Officer for the Performance-Based Integration and Management Contract overseeing technical engineering and environmental work.
Ms. Bell began her career as an Officer in the United States Air Force, where she managed several projects and contracts in support of major Air Force weapon systems. During that time, she was the recipient of many distinguished awards, including the National Defense Service Medal, Air Force Organizational Excellence Award Ribbon, and Air Force Longevity Service Award Ribbon.
A California and Texas native, Ms. Bell is the mother of two children. She holds a Master of Environmental Sciences from the Colorado School of Mines, a Master of Business Administration from Pepperdine University, and a Bachelor of Science in Engineering Mechanics from the U.S. Air Force Academy.
Ms. Bell is committed to facilitating an inclusive workplace environment that values diversity, delivers high quality, and promotes professional development through coaching and mentoring.