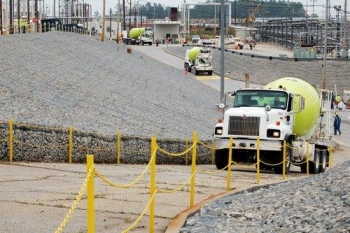 Cement trucks transport a specially formulated grout that is pumped into the waste tanks.
AIKEN, S.C. – Workers have poured more than 1 million gallons of a cement-like grout into two underground radioactive waste tanks, moving the Savannah River Site (SRS) nearer to closing the massive structures.
SRS and liquid waste contractor Savannah River Remediation are working to fill the 1.3-million-gallon Tanks 18 and 19 with grout, a project that began April 2. Grouting of the tanks, ancillary piping and equipment is scheduled for completion in late summer.
As many as six cement trucks operate every hour during weekday business hours to deliver the mixture to the site to pump into the tanks.
Closing the two tanks is a significant step in the completion of cleanup of the site's legacy nuclear waste, according to Terrel Spears, DOE-Savannah River Operations Office Assistant Manager for Waste Disposition Project Terrel Spears.
"Eliminating the risk of radioactive legacy nuclear waste is a priority, and operational closure of these tanks is significant to meeting our critical mission," Spears said.
SRR President and Project Manager Dave Olson said grouting the tanks will reduce risk for workers, the public and the environment.
"SRR is committed to safely dispositioning waste and closing waste tanks to reduce risk in a cost-effective manner and in compliance with regulatory commitments," Olson said. "The lessons learned in closing the tanks provide us useful information that we will use to close additional tanks."
Tanks 18 and 19 will be the first tank closures at SRS since 1997, when two were closed.