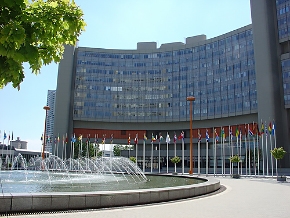 Discussions during the Underground Research Facility Forum meeting were conducted at the Vienna International Centre (VIC). The United Nations Offices in Vienna and the IAEA are located in the VIC (Photo courtesy of United Nations Information Service Vienna).
CARLSBAD, N.M. – EM's Waste Isolation Pilot Plant (WIPP) was in the spotlight with two international organizations at meetings held in Europe late last year.
Dr. Abe Van Luik, EM Carlsbad Field Office (CBFO) International Programs and Policy Advisor, participated in the Executive Group and Management Board of the Nuclear Energy Agency Thermochemical Database (TDB) Project in Paris in November 2013. Also in November, Van Luik was a key participant in the International Atomic Energy Agency's (IAEA) Underground Research Facility (URF) Forum meeting in Vienna.
"It's important that CBFO engage in international venues to share our knowledge with other nations and gain from their experiences," said CBFO Manager Joe Franco. "As America's only operating deep geologic repository for the permanent disposal of radioactive waste, WIPP is a global model for other countries." CBFO has responsibility for WIPP and the National Transuranic Program.
At the TDB meeting, the group began an important phase of its work to include a task suggested by the WIPP team representation that may further the scientific credibility of WIPP as a repository for the permanent disposal of waste. The team includes Los Alamos National Laboratory-Carlsbad Operations and CBFO.
The proposed project involves creating a report on the use of data in Pitzer equations. Pitzer equations are used at WIPP for estimating the solubility of actinides in brines and are part of the scientific basis for certifying WIPP's ability to protect people and the environment from exposure to radionuclide releases for 10,000 years.
Van Luik was part of the URF Forum's work that enables information from the development and operation of WIPP to be shared with other IAEA member nations worldwide to develop their repository programs. At the meeting, the WIPP team, which included representation from Sandia National Laboratories and CBFO, renewed an ongoing agreement with IAEA by offering to plan, conduct and support one course in the U.S. every other year. 
A date and location will be determined for the next planned course, which will include subject experts from Sandia who will provide information on the generic safety cases for repositories situated in different rock types. As a highly successful repository with rock salt as its host rock, WIPP demonstrates the benefits of salt in nuclear waste management. Other rock types currently being studied in the U.S. include granite and other crystalline rocks and clay shale.
"The Underground Research Facility Forum was organized in 2001 and is the oldest of the IAEA network groups," said Van Luik. "WIPP, which has participated in the educational activities of the URF since its inception, is the example for other countries that want to develop their own safe, long-term repository programs."