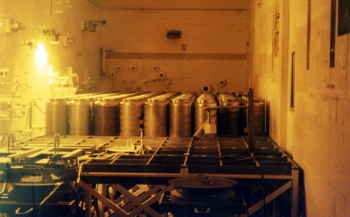 The West Valley Demonstration Project's high-level waste canisters will be relocated to interim onsite storage.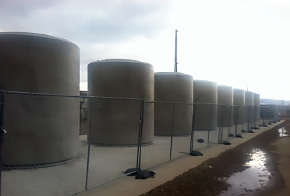 The first group of eight concrete storage casks for the West Valley Demonstration Project's high-level waste.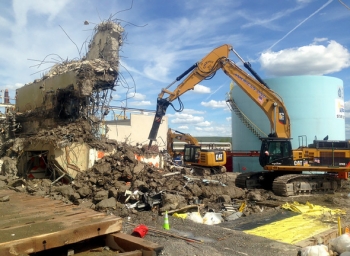 Site subcontractor American DND completed demolition of the contaminated 01-14 Building in 2013.
WEST VALLEY, N.Y. – With completion of the recently constructed interim storage pad at the West Valley Demonstration Project (WVDP), EM crews have begun a multi-year effort to relocate high-level waste (HLW) canisters stored inside the Main Plant Process Building to prepare the facility for demolition.
The canisters will be placed into concrete storage casks and then moved to the outdoor storage pad on site, located inside the 3,300-acre Western New York Nuclear Service Center south of Buffalo, New York. The 278 canisters of vitrified HLW were created during a liquid waste vitrification campaign at the WVDP that ended in 2002. 
EM and its prime contractor at the WVDP, CH2M HILL B&W West Valley, LLC (CHBWV), initiated construction of the HLW storage pad in 2013 and oversaw fabrication of the first group of eight storage casks that will safely contain the HLW until it is ultimately shipped offsite for disposal. Procurement of eight multi-purpose canister overpacks that will contain the canisters and transport vehicles for indoor loading and outdoor movements of the casks began earlier this year. The storage system design and cask fabrication were adapted from commercial nuclear fuel storage systems and provided by NAC International. Canister loading is scheduled to begin in 2015.
Also in 2013, EM and CHBWV completed demolition and disposal of seven facilities located on the site. The buildings demolished in 2013 included the 01-14 Building, which contained chemically and radiologically contaminated equipment and piping. CHBWV will remove approximately 40 structures from the WVDP landscape under its current contract. Workers completed offsite shipment and disposal of about 77,000 cubic feet, or more than 50 percent, of the legacy low-level waste and mixed low-level waste stored at the site. The shipments helped clear valuable indoor waste processing and storage space.