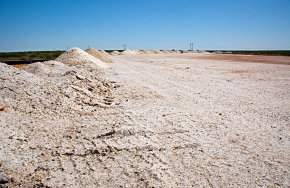 Approximately 1.8 million tons of salt have been mined out of the underground at WIPP.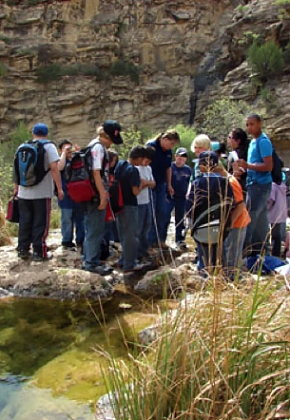 Proceeds from the WIPP salt allowed hundreds of southeast New Mexico students to learn about resource conservation.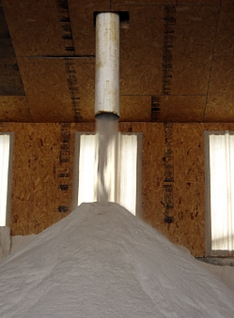 The crushed salt is used as a supplement in cattle feed. Since the salt from WIPP has been mined from the middle of a large salt formation, its quality is high, according to Magnum Minerals.
CARLSBAD, N.M. – Proceeds from a unique arrangement that turned excavated salt from EM's Waste Isolation Pilot Plant (WIPP) into a usable commodity have supported an array of public projects, including field trips focusing on conservation education for about 600 elementary-age students.
WIPP's nuclear waste disposal repository mining operations result in large volumes of excavated salt. Seeking an innovative alternative to landfill disposal, EM's Carlsbad Field Office (CBFO) reached an agreement with Magnum Minerals, LLC several years ago following a request for proposals seeking public interest in use of the salt. The salt is excavated to create underground rooms for the safe, permanent disposal of defense-related transuranic (TRU) waste and is safe for use.
The five-year agreement, which is in its fourth year, stipulated that the Carlsbad Soil and Water Conservation District (CSWCD) would administer the contract with proceeds to remain in southeast New Mexico for public works projects.
CBFO, which has responsibility for WIPP and the National TRU Program, benefits from the agreement by not having to dispose of the salt and put it in a landfill. Except for the excavated salt that is removed as a result of this agreement — and salt that will be used for backfill and berms at the eventual site closure and potential additional reuse options — WIPP's salt from its mining operations will remain on the surface until it is disposed in a landfill. Since mining began at WIPP in 1982, approximately 1.8 million tons of salt have been mined out and deposited on the surface at WIPP.
Magnum Minerals, of Hereford, Texas, uses the salt as a supplement in cattle feed. Mike Browning, Magnum Minerals general manager, said his company picks up four truckloads of salt a day from WIPP, with each roundtrip being 440 miles.
"Deaf Smith County is the largest cattle feeding county in Texas," he said. "There are 35 feed yards in this area that feed two million head a year."
On arrival at the Hereford plant, the salt is loaded into a shaker and separated by size. It is then cleaned and ground into a consistency for liquid or dry feed products. Browning said that salt and its micronutrients are essential to cattle health.
"The agreement has worked extremely well and helps many," CBFO Manager Joe Franco said. "The salt that Magnum Minerals removes from the WIPP site has proven to be an asset not just for the company's animal feed purposes, but it is also of benefit to the regional environment because it allows for sustainable reuse instead of solid waste disposal. Additionally, the Carlsbad Soil and Water Conservation District is able to use the proceeds for its area projects and conservation education that helps the region's youth learn how to respect and care for the New Mexico environment for their generation and those of the future."
CBFO National Environmental Policy Act Compliance Officer Susan McCauslin, an environmental protection specialist, said DOE will be required to restore the WIPP site to its natural state when the site is decommissioned.
"The remaining salt will be disposed in a landfill," she said. "The agreement between Magnum Minerals and the CSWCD puts natural resources to good use and reduces the amount of salt that DOE will have to remove from WIPP. Ultimately, the contract will conserve needed space in public landfills."
CSWCD District Manager Judy Bock said the district is pleased to be part of the collaborative effort.
"These funds help to provide conservation education to the local schools and also benefit neighborhood community projects," Bock said.
The proceeds allowed the students to take field trips to learn about the area's water cycle, soil erosion and stabilization, in addition to wildlife identification and the effects of industry on the environment. Elementary and high school students engaged in watershed and erosion demonstrations, and 22 fourth- and fifth-grade classes participated in a poster contest for the National Association of Conservations Districts 2013 Soil Stewardship Week.
The Permian basin salt bed had its beginning millions of years ago when a tidal flat existed where the WIPP facility is located today. Sea water rushed in, receded and evaporated. Approximately 250 million years ago, the repetitive process left a 2,000-foot thick salt formation and natural hydrologic barrier that has proven to be an ideal medium for safe, long-term isolation of radioactive materials.
WIPP, located 26 miles outside of Carlsbad, is a DOE facility designed to safely isolate defense-related TRU waste from people and the environment. Waste temporarily stored at sites around the country is shipped to WIPP and permanently disposed in rooms mined out of an ancient salt formation 2,150 feet below the surface. WIPP, which began waste disposal operations in 1999, has cleaned 22 sites of legacy TRU waste.