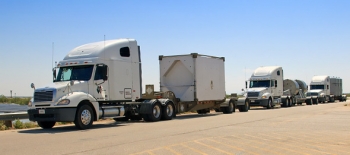 Since WIPP became operational in March 1999, it has surpassed receiving 11,000 shipments, which traveled over 14 million safe loaded miles over the nation's highways through WIPP's transportation program — equal to about 29 trips around the moon. WIPP has permanently disposed of more than 89,000 cubic meters of TRU waste — enough to fill more than 35 Olympic-size swimming pools. In 2013, WIPP is on course in support of the Los Alamos National Laboratory framework agreement with the State of New Mexico for complete removal of the above ground TRU waste stored at Area G by June 30, 2014. WIPP has cleaned 22 sites of legacy TRU waste.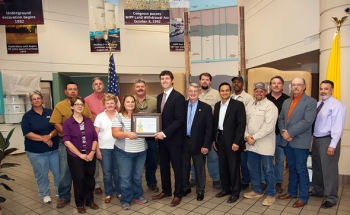 In 2013, a team of CBFO federal employees and WIPP contractors and subcontractors was recognized for initiatives to protect the environment through waste reduction and conservation efforts. In April, the New Mexico Environment Department selected WIPP as a Gold Level leader in the Green Zia Environmental Leadership Program, its highest recognition for environmental excellence (group photo). In August, WIPP was selected as an honoree in the category of sustainable workplace at the New Mexico Sustainable Business Summit held in Albuquerque, N.M. WIPP received the award by improving efficiencies and reducing the overall amount of hazardous waste generated in its groundwater-monitoring program. WIPP added to its achievements from latter 2012 when DOE recognized four environmental initiatives at WIPP and presented more than 20 employees with DOE Sustainability Awards for improvements in energy, water and fleet efficiency while reducing pollution and waste across the complex.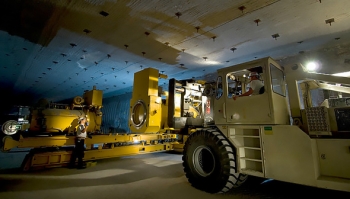 WIPP's exceptional safety performance in all operations was again acknowledged in 2013. In this photo of WIPP operations, personnel load a facility cask containing remote-handled TRU waste onto horizontal emplacement equipment. Once loaded, the emplacement equipment pushes the canister out of the facility cask and into a borehole. The DOE awarded WIPP with the Voluntary Protection Program's Legacy of Stars award this year. This award, which is the result of achieving star status for four consecutive years, is the second DOE Legacy of Stars award WIPP has received. Also, the New Mexico Bureau of Mines and the New Mexico Mining Association recognized WIPP with the Safe Operator of the Year Award. This is the 25th such award received by WIPP out of the last 27 years.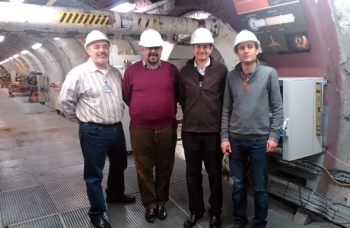 In 2013, WIPP had over 450 visitors, including more than 30 international representatives from many different nations as supported by International Programs. Additionally, CBFO representatives participated in many international forums and exchanges. In November 2013, CBFO Manager Joe Franco (far left in photo) participated in the International Association for Environmentally Safe Disposal of Radioactive Materials (EDRAM) Fall 2013 meeting in Antwerp, Belgium. As shown, part of the visit for EDRAM included viewing the Underground Research Laboratory HADES, Mol, Belgium, which was part of the EDRAM meeting. Representing DOE, Franco provided EM and Nuclear Energy updates at the meeting. It included discussions of technical issues addressing operational safety, with WIPP having an exemplary role because of its more than 14-year operational history. HADES was excavated at a depth of about 220 meters beginning in the early 1980s to study the feasibility of geological disposal in the Boom Clay in Belgium. EDRAM participants are shown in front of the PRACLAY gallery, where a large-scale heater experiment was installed and is scheduled to begin operating in 2014 for about a 10-year period.
CARLSBAD, N.M. – EM's Waste Isolation Pilot Plant (WIPP), America's only operating deep geologic repository for the permanent disposal of defense-related transuranic (TRU) waste, and the Carlsbad Field Office (CBFO) National TRU Program continued to be in the global spotlight with significant accomplishments throughout 2013.
CBFO has responsibility for WIPP and the National TRU Program. WIPP received recognition from national, state and regional governments, organizations and industry. Prominent accomplishments included the safe, compliant and efficient shipment and disposal of defense-related TRU waste, excellence in the protection of human health and the environment and numerous cooperative exchanges through CBFO's International Programs that benefit the U.S. and other nations.