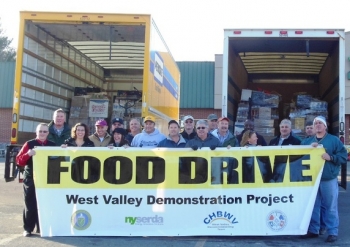 Volunteers from West Valley Demonstration Project gather before distributing items collected in an annual food drive.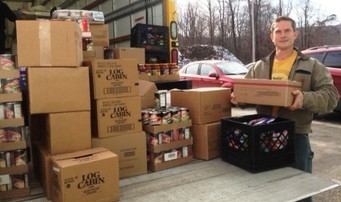 Volunteer John Schelble helps unload a delivery truck at a food pantry.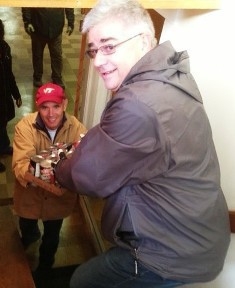 John Rizzo passes canned food to John Rendall to deliver to a food pantry.
WEST VALLEY, N.Y. – Just in time for the holidays, eight local food pantries received 640 turkeys, 1,800 pounds of potatoes and other items, thanks to an effort by EM employees and contractors supporting cleanup at West Valley Demonstration Project (WVDP) and other volunteers.
The 325 volunteers in the annual WVDP food drive brought in 122,000 pounds of food, moving past a goal of 95,000 pounds and outdoing the drive's 90,711-pound total from last year, a 35 percent jump.
"Our fellow employees, subcontractors and local supporters are amazing," said Lettie Chilson, the drive's chairman and project engineer with EM's contractor, CH2M HILL B&W West Valley, LLC. "They exceeded our steep 2013 goal in the generous donations of food and cash. This reinforces what a privilege it is to work with such great people."