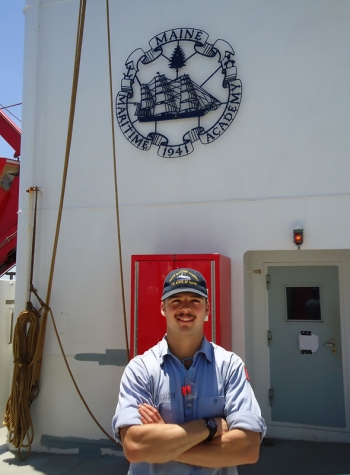 Maine Maritime Academy senior Jared Woods learned about nuclear waste management issues at EM.
WASHINGTON, D.C. – Jared Woods graduates from the Maine Maritime Academy (MMA) next month with the experience of an adventurous summer as a fellow in the DOE Scholars Program, an opportunity to explore the agency's careers and learn about its mission and operations.
Assigned to EM's Washington, D.C. headquarters, Woods gained knowledge about nuclear safety and waste treatment under the guidance of EM Office of Safety Management Director Todd Lapointe, who graduated from MMA in 1987.
"It was a pleasure to mentor Jared as a DOE summer fellow," Lapointe said. "I was pleased to see how well the academy had prepared him. He made a positive impact on the DOE engineers he worked with. We look forward to providing future fellowship opportunities."
Woods explored policy and oversight functions at EM headquarters and gained hands-on experience in project work at EM field sites. He visited the Idaho Radioactive Waste Management Complex near Idaho Falls, Idaho, where he joined a team evaluating work at the Advanced Mixed Waste Treatment Project and assisted with an integrated safety management system review.
At Knolls Atomic Power Laboratory near Niskayuna, N.Y., Woods observed challenges in nuclear sludge processing in EM's Separations Process Research Unit project. He also participated in a quality assurance compliance review at the Office of River Protection in Richland, Wash. There, he visited tank farms and the Waste Treatment and Immobilization Plant, which is under construction.
Woods graduates a semester ahead of schedule because he accelerated his education and training at the academy. In January, he plans to set sail with the U.S. Merchant Marine as a U.S. Department of Transportation, Coast Guard licensed marine engineer. The Merchant Marine is a "fourth arm of defense" in time of war or national emergency, delivering military troops, supplies and equipment overseas for U.S. forces and allies operating as an auxiliary unit to the Navy.
Targeting undergraduate, graduate or post-graduate students of an accredited institute of higher education, the DOE Scholars Program introduces students and post-graduates to DOE's mission and operations.
Deadline to submit applications for the 2014 DOE Scholars Program is Jan. 12, 2014. Assignments are possible at DOE locations across the complex. More information is available here.