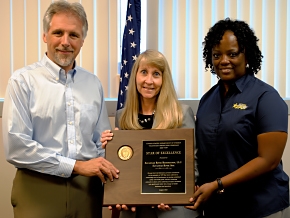 SRR President and Project Manager Ken Rueter (left), SRR Director of Environmental, Safety, Health and Quality and Contractor Assurance Patricia Allen and SRR VPP Chair Donletta Watts (right) accept DOE's VPP Star of Excellence award.
AIKEN, S.C. – EM liquid waste contractor Savannah River Remediation (SRR) recently received the DOE Voluntary Protection Program (VPP) Star of Excellence award for its commitment to ensure the safety of employees.
This is the 12th such award presented to the Savannah River Site (SRS) liquid waste operations group and the fourth for SRR, which became the SRS liquid waste contractor July 1, 2009.
Dave Moody, DOE-Savannah River Operations Manager, recognizes the exemplary effects of SRR's safety and wellness practices on the company's workers and other SRS contractors.
"SRR has demonstrated a commitment to ensuring a safe and healthy work environment for their workforce and establishing a legacy of excellence," said Moody. "I thank them for their dedicated efforts to promote VPP, both at home and nationwide."
SRR President and Project Manager Ken Rueter said the award is also given based on SRR's outreach services to other contractors striving to achieve VPP recognition.
"I'm proud of SRR's demonstrated, outstanding level of performance towards safety and health goals needed to receive this award," Rueter said. "Additionally, I'm honored SRR has provided service to the community by reaching out to other organizations and facilitating continuous improvement of the SRS safety program."
SRR employees accepted the award during the annual National Voluntary Protection Programs Participants' Association Conference held in Nashville, Tenn., in August 2013.