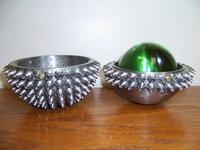 The Savannah River National Laboratory completed successful deployments of the RadBall, a gamma radiation-mapping device.
AIKEN, S.C. – The Savannah River National Laboratory (SRNL), EM's national lab, has made strides with remote technology designed to reduce worker exposure while measuring radiation in contaminated areas.
Building on a successful collaboration with the United Kingdom's National Nuclear Laboratory, SRNL completed successful deployments of RadBall, a gamma radiation-mapping device, after testing the technology. The device provides technology to remotely perform characterization needed for deactivation and decommissioning of radioactively contaminated facilities. This project received funding from the EM Office of Technology Innovation and Development.
RadBall was deployed at Oak Ridge National Laboratory in Tennessee and the Hanford site in Washington state. The Hanford site tests included submerged deployments that confirmed RadBall could be used to characterize underwater radiation sources. To date, the device has been used about 60 times, and NNL has plans for further deployment.
A single RadBall can be positioned in a highly contaminated area, glove box, or hot cell and left alone to passively collect data, instead of personnel spending valuable time and incurring potential exposure carrying out manual scanning and surveying. The device consists of a colander-like outer shell that houses a baseball-sized sphere made of a radiation-sensitive polymer. Those areas of the polymer sphere that are exposed react to the radiation, becoming increasingly more opaque, in proportion to the absorbed dose. SRNL designed several RadBall accessories and complementary technologies to enhance use of the RadBall, including inserts to prevent the RadBall polymer from being overexposed; a software package for processing of the data obtained to produce a 3-D visual representation of the contaminated room; and SourceMarker to display the data as
images on the walls, ceiling, and floor of a contaminated room using multi-color laser technology while maintaining proper scale and aspect ratio. These SRNL inventions have been submitted to the U.S. Patent and Trademark Office. Obtaining a patent on a technology is a key step toward contributing to the U.S. economy by making the technology available for manufacture and marketing by private enterprise.