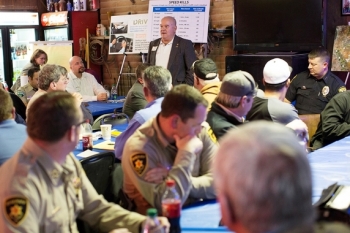 Jal, N.M., City Manager Curtis Schrader talks with RSIP members about roadway safety needs in his community.
CARLSBAD, N.M. – The first SafetyFest of southeastern New Mexico will be held in Carlsbad next month as a result of the efforts of the Southeastern N.M. Roadway Safety Integrated Project (RSIP).
SafetyFest will be held Sept. 11 to 13. The conference is geared to the oil and gas, mining, construction and transportation industries, offering safety related training and information.
SafetyFest was organized by RSIP, whose purpose is to develop a strategic approach to improve traffic safety in southeastern New Mexico. Since RSIP began, there has been increasing interest and advocacy for the initiative throughout the state.
EM's Waste Isolation Pilot Plant (WIPP) is in a rural area, home to vast underground resources that include potash, a component in commercial fertilizer, and expansive oil and natural gas deposits.
The WIPP transportation system recently surpassed 11,500 safe shipments that traveled over 13.7 million loaded miles. In recent years however, the area around WIPP has seen an increase in traffic and traffic-related accidents and fatalities, none of which involved the shipment of transuranic waste to WIPP. One accident involved a WIPP contractor employee, who was fatally injured in a two-vehicle accident within miles of the WIPP site in June 2012. Weeks later, another contractor employee was involved in a fatal crash.
EM Carlsbad Field Office (CBFO) Manager Joe Franco chartered a WIPP team to recommend safety actions for WIPP employees who drive to and from work each day. CBFO has responsibility for WIPP and the National Transuranic Program. As a first step, Nuclear Waste Partnership (NWP), LLC, the WIPP management and operating contractor, required all employees to take a defensive driving course.
In January, CBFO and NWP management hosted a meeting that included federal, state and local government representatives, law enforcement agencies and commercial industry to seek support for the roadway safety effort. The result was RSIP, with its mandate to reduce traffic-related accidents in the area.