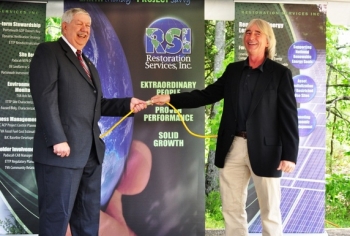 Oak Ridge Mayor Tom Beehan, left, and RSI Vice President Rick Ferguson pose for photos at a May 2012 ceremony for an RSI solar farm at DOE's East Tennessee Technology Park.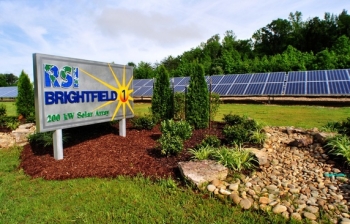 With a focus on beneficial site reuse, RSI worked with DOE's Asset Revitalization Initiative to install a solar farm at the East Tennessee Technology Park.
OAK RIDGE, Tenn. – The U.S. Small Business Administration (SBA) recently honored an environmental cleanup company that supports Oak Ridge's EM program as its Subcontractor of the Year in an eight-state region.
The prestigious award went to Restoration Services, Inc. (RSI), which was recognized for its hard work, community dedication and innovative ideas. The employee-owned, small business headquartered in Oak Ridge devised a successful waste characterization approach that eliminated redundant management and cross-trained workers to manage peak workloads without additional resources. The changes saved $3.3 million.
"The SBA is pleased to recognize [RSI's] achievements and [their] role in driving our nation's economic growth," said John Shoraka, with SBA's Office of Government Contracting and Business Development. 
URS | CH2M Oak Ridge LLC (UCOR), the prime EM contractor in Oak Ridge, nominated RSI for the annual award. RSI serves as an integrated team subcontractor to UCOR that supports the EM cleanup mission in Oak Ridge.
"We are very fortunate to work with the best in the business," Oak Ridge EM Manager Mark Whitney said. "RSI is very deserving of this award, and their most recent recognition serves as a confirmation of the quality of the men and women we have working on our cleanup mission in Oak Ridge.
RSI manages the Oak Ridge Reservation's long-term stewardship as well as its Water Resources Restoration Program, which encompasses 33,000 acres. The team inspects landfill caps and works with the groundwater treatment system. RSI also supports DOE's coordination of the Oak Ridge Federal Facility Agreement and is responsible for preparing all regulatory decision documents.
As part of DOE's Asset Revitalization Initiative, RSI financed and installed a solar farm at the East Tennessee Technology Park, a former uranium enrichment site. The collection of solar panels accounts for 200 kilowatts of power.
"It's all a result of our employees who commit every day to work safely, work hard and provide innovative responses to our customer's needs," President Staci Ferguson said. "We also want to thank everyone at UCOR for giving us the opportunity to prove ourselves as we work together to clean up the DOE Oak Ridge Reservation."