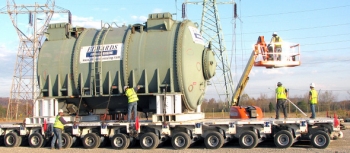 The Portsmouth site worked with two regional companies and local law enforcement to arrange transportation of 10 massive synchronous condensers as part of an asset recovery effort.
PIKETON, Ohio — The EM program at the Portsmouth site and its contractor, Fluor-B&W Portsmouth, recycled millions of pounds of metal from the demolition of an electrical switchyard that served the former gaseous diffusion plant.
The effort at the Portsmouth site diverted more than 4 million pounds of steel, aluminum and copper from landfills, saving $7 million.
"This is the latest success in a long line of recycling efforts to reduce the environmental footprint from the Portsmouth site," DOE Portsmouth Site Director Dr. Vince Adams said. "Reduce, reuse and recycle are the three R's of resource use that we factor into the planning process of all of our projects."
Much of the recyclable metals came from 10 large, heavy synchronous condensers. The units weighed as much as 200 tons each. During plant operations, they were used to regulate power for the X-533 Switchyard. The switchyard provided electricity to the X-333 Process Building, which housed the uranium enrichment processing system called the cascade. The condensers were dismantled piece by piece and the metals were cleared for release to be recycled.
"The condenser recycling campaign is the latest example of how we maintain our community focus while delivering the site cleanup mission," Adams said. "DOE and Fluor-B&W are working together, using efforts like this for the benefit of the region."
The units were moved individually from the site to a nearby staging area, where a recycling company accepted the materials.
Fluor-B&W Portsmouth was awarded a contract by DOE in 2010 to oversee the safe cleanup of the former gaseous diffusion plant, including the removal of more than 400 Cold War buildings and systems.